Naughty but Nice
This recipe is from of my favourite London bookshops, "Books for Cooks" in Notting Hill. They publish their own collection of recipes every year. I have being collecting these books for the past 20 years.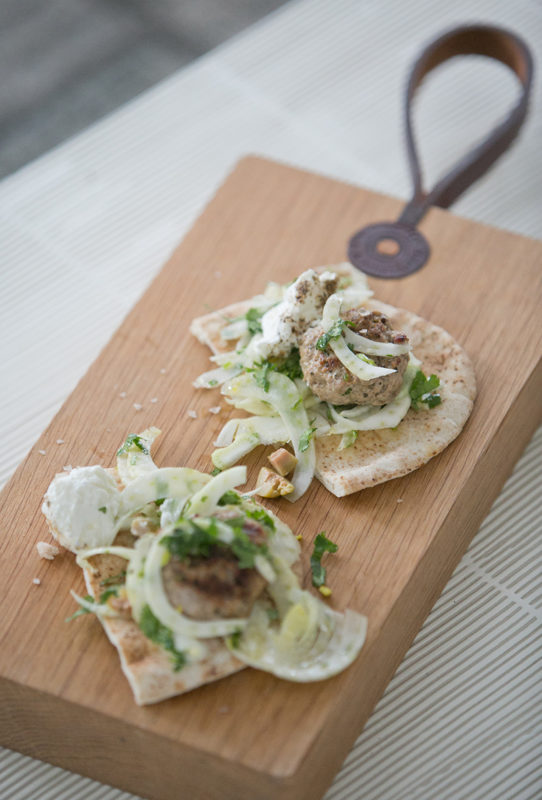 ---
Spicy Pork Meatballs with Fennel and Olive Salad
Ingredients
500 g ground pork
2 garlic cloves, minced
1 tablespoon fresh mint, finely chopped
1½ teaspoons ground cumin
1 teaspoon dried oregano
1½ teaspoons salt
1 teaspoon ground coriander
½ teaspoon crushed chilli flakes
¼ teaspoon black pepper
¼ teaspoon ground nutmeg
¼ teaspoon ground cinnamon
For the fennel/olive salad:
2 fennel bulbs, very finely sliced
10 green olives, pitted and thinly sliced
handful of fresh cilantro, finely chopped
2 tablespoons lemon juice
3 tablespoons extra virgin olive oil
salt, to taste
pepper, to taste
To serve:
flatbread, warm
1 cup plain Greek yogurt
Method
1. For the meatball mixture: In a large mixing bowl place the pork, garlic, mint, cumin, oregano, paprika, salt, coriander, chilli flakes, pepper, nutmeg and cinnamon. Combine everything as thoroughly as possible, using either your hands or a large fork.
2. With oiled hands divide the mixture to 16 sections and roll into small rounds. Place the meatballs on a tray and chill for 20 minutes to firm while preparing the salad.
3. For the fennel/olive salad: In a bowl add the fennel slices, olives, cilantro, lemon, oil, salt and pepper. Mix and combine well. Adjust the seasoning as needed.
4. Heat a ridged, griddle pan until very hot. Grill the meatballs until crisp and browned all over, about 5 minutes.
5. To serve: Scoop a little bit of the salad onto a slice of flatbread, place a meatball over the salad, and drop another small scoop of salad over the meatball. Serve with a heaping spoonful of yogurt on the side. Serve at once.
Serves 4 to 6 
Note: This recipe is from one of my favourite shops in London, Books for Cooks. I just love the blending of all these ingredients with the result being…a mini masterpiece!