Mushroom Lover Pesto
Porcini, Pleurotus, Shiitake and, of course, Truffles… These wild gifts of nature are a perfect source of protein and they each have a unique taste, texture and colour.
When there is an abundance of mushrooms, you can make this pesto sauce, a perfect way to enjoy pasta…
For a last minute, impromptu pasta dinners aux deux!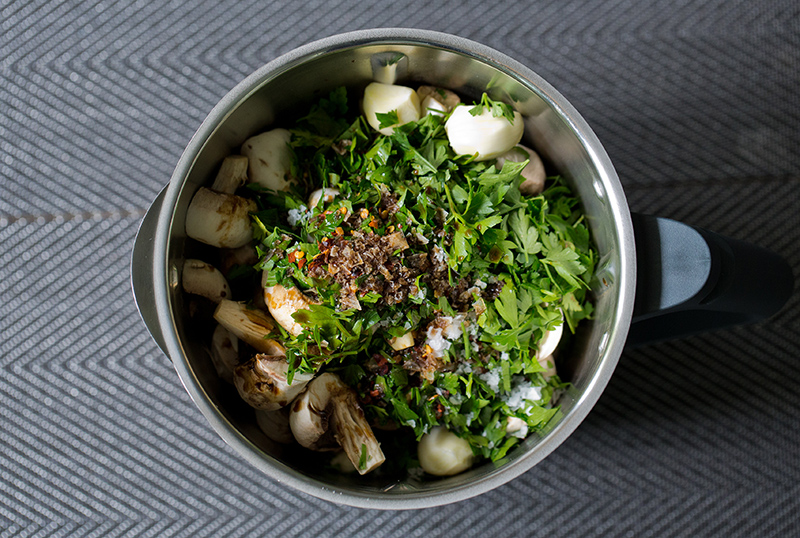 ---
Mushroom Lover Pesto
Ingredients
4 tablespoons extra-virgin olive oil
300 g fresh mushrooms; (a variety) finely chopped
1 tablespoon Worcestershire sauce
1 tablespoon medium-dry sherry (optional)
sea salt, to taste
pepper, to taste
2 garlic cloves, peeled
¼ cup pine nuts
¼ cup freshly grated Pecorino or Parmesan cheese
½ cup fresh parsley leaves; packed down, washed well and spun dry
500 g penne rigate (ridged penne) or other tubular pasta
Method
1. For the pasta: Bring a large pot of salted water to a boil.
2. Mushroom mixture: Meanwhile, in a medium, non-stick, frying pan heat 1 tablespoon of olive oil over a moderately high heat until hot, but not smoking. Add the mushrooms and sauté together with Worcestershire sauce, sherry, salt and pepper (to taste), stirring, until the liquid which is given off by the mushrooms evaporates and the mushrooms begin to brown, about 10 minutes.
3. Garlic paste: Mince and mashed the garlic cloves to a paste, adding a ¼ teaspoon of salt.
4. Pesto: Purée the mushroom mixture (preferably in a food processor) with the garlic paste, pine nuts, Pecorino (or Parmesan) cheese, and the remaining 3 tablespoons of oil. Add the parsley and blend until the parsley is very finely chopped.
5. Cook the pasta in the boiling water until al dente. Drain the pasta reserving 1 cup of the hot cooking water.
6. In a large bowl whisk together the pesto and ⅔ cup of the reserved (and still hot) cooking water. Add the pasta and toss well, thinning pesto, if necessary, with remaining hot cooking water.
Serves 4 to 6
Note: Pesto keeps in the refrigerator for 1 week — even out the surface of the pesto, cover with a layer of olive oil, and chill.
Total time 45 minutes