Autumn Sonata
A  recipe, put together with love and respect for nature, can create a painting, brushstrokes of different ingredients, all blended in to make up a beautiful image…
I find the combination of ingredients quite sophisticated; subtle but still incredibly flavoursome…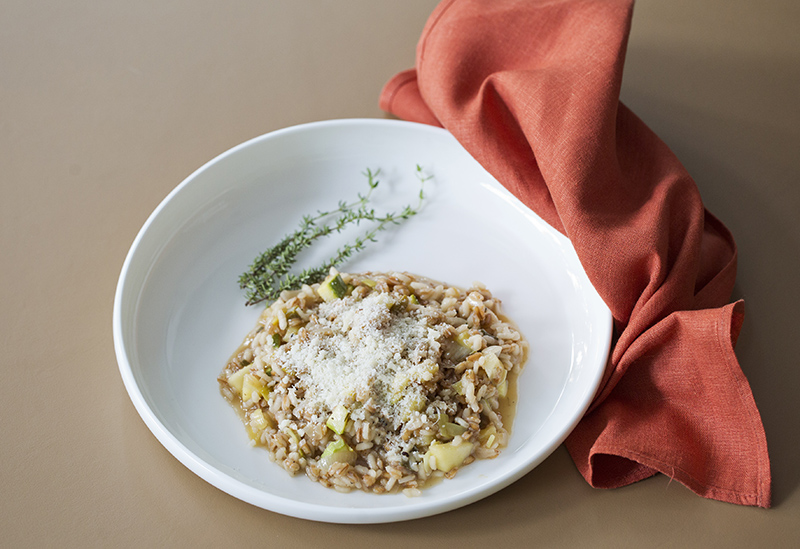 ---
Autumn Barley Risotto
Ingredients
½ cup extra virgin olive oil
4 small courgettes, diced small
1 leek, white part only, cut in thin rounds
1 carrot, peeled and diced small
1 apple; granny smith, unpeeled, diced
3 shallots, chopped finely
1 garlic clove, peeled and minced
1 cup pearl barley
1 cup Marsala wine
2.8 liters (12 cups) vegetable stock
1 tablespoon fresh sage leaves, chopped
1 tablespoon fresh thyme leaves, chopped
1 cup carnaroli rice
salt
pepper, freshly ground, to taste
freshly grated Parmesan or Pecorino cheese
Method
1. Sautéed vegetables:  In a wide frying pan, sauté courgettes, leek, apple and carrot in 1/4 cup olive oil until golden, and set aside. In a large saucer warm the vegetable stock and bring to the simmering point.
2. In a casserole dish, sauté the shallots and garlic in the last 1/4 cup of the olive oil until they are translucent. Add the barley and stir, cooking until the barley is almost toasted, about 5 minutes. Add the Marsala wine and ½ cup of hot vegetable stock. Simmer — stirring about 6 minutes — until liquid is absorbed. Stir in the sage and thyme.
3. For the risotto:  Add the rice and stir, to combine. Add the stock — about ½ cup at a time — stirring constantly until the liquid is absorbed and the grains are soft and moist, but not mushy, approximately 30 to 35 minutes. Add sautéed vegetables and stir to combine.
4. Serve immediately with freshly grated Parmesan or Pecorino cheese.
Serves 6 to 8