Autumn vibes
One of the first desserts I ever made was my mother's Apple Crumble.
A Sunday afternoon tradition,  that brings to mind childhood memories…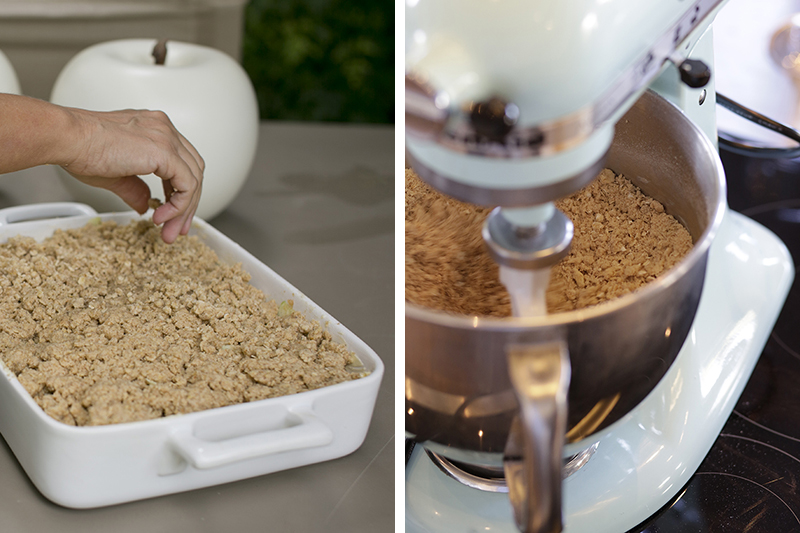 My mothers version is the classic, I played around, finding my own fine tuning, altering the dosages and adding new ingredients, depending on my mood.
After all, this is what I love best about cooking: the chance to conquer a good base and set your imagination free, sharpening your artistic senses and letting yourself in for a nice, flavourful surprise.
---
Apple Crumble
Ingredients
For the filling:
1.300 kg apples; peeled, cored,
sliced ½ cm thick
1 tablespoon lemon juice
¼ cup all purpose white flour
2 tablespoons caster sugar
½ teaspoon cinnamon
For the topping:
1½ cup all purpose white flour
¾ cup firmly packed light
brown sugar
pinch of salt
220 g butter, unsalted cut into cubes
1 cup old-fashioned rolled oats
2 tablespoons granola (optional)
½ teaspoon ground cinnamon
½ teaspoon nutmeg
¾ cup almond flakes
Method
1. Place a rack in the middle of the oven and preheat to 180°C (350°F).Butter a 30 cm deep pie dish.
2. For the topping: Using a stand mixer or a food processor, pulse flour, light brown sugar and salt. Add the butter and pulse until mixture resembles coarse bread crumbs. Add the rolled oats, granola (if using), cinnamon and nutmeg and pulse to combine it all. Transfer to a bowl.
3. To make the fruit filling: In the order written, combine in a bowl the sliced and cored apples, lemon juice, flour (sprinkle it), caster sugar and cinnamon. Toss ingredients together. Spread the fruit filling in the buttered dish. Using your fingertips, press the topping into large clumps and scatter over the fruit. Sprinkle the almond flakes and some cinnamon on top.
4. Bake until the topping is golden and crisp, about 1hour.
5. Serve warm or at room temperature with whipped cream or, if you prefer, vanilla ice cream. Preferably eaten on the same day, otherwise it can lose its crunchy texture.
Serves 8 to 10