Bright & Beautiful
Roasting the red peppers gives them a nutty flavour that blends just perfectly with the toasted walnuts. Lemon zest and garlic, the spices and olive oil add some complexity to the taste, creating a unique spread that is really delicious.
Other than serving it with fresh vegetables or crunchy little pieces of pitta bread,  add to your sandwiches or wraps.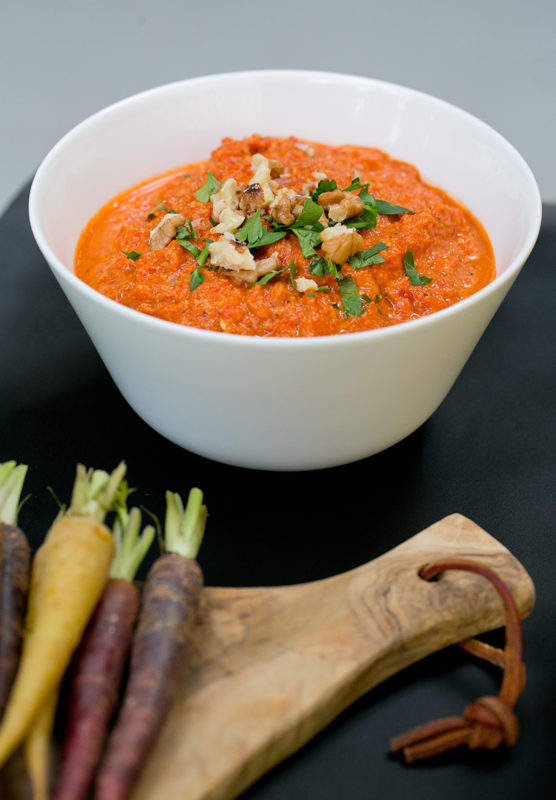 ---
Roasted Red Pepper Spread with Walnuts
Ingredients
700 g sweet red peppers
4 tablespoons olive oil
1 cup walnuts
1 garlic clove
1 lemon, grated zest
½ lemon, juice
1 teaspoon cumin
½ teaspoon smoked paprika
pinch of cayenne pepper
sea salt, to taste
parsley, fresh
Method
1. Preheat the oven to 200℃ (400℉). Line a baking sheet with parchment paper.
2. For the peppers:  Rub the peppers with 1 teaspoon of the olive oil and place them on the prepared baking sheet.
3. Roast for 35 to 40 minutes until soft and blackened in a few places. Transfer to a bowl and cover with plastic wrap. Set the bowl aside for 10 minutes—this will cause the peppers to steam which will make it easy to remove their skins.
4. For the walnuts: Reduce the oven's temperature to 170℃ (340℉).
5. Spread the walnuts on a separate baking sheet covered with parchment paper and toast for 6 to 8 minutes; watch them carefully so they do not burn. Remove from the oven and set aside to cool.
6. When the peppers have cooled, slip the skins off them and discard the skins.
7. In a food processor or blender, pulse the garlic until minced. Add the peppers, the remaining olive oil, lemon zest, lemon juice, cumin, paprika, pepper and salt and blend until smooth or slightly chunky, as you prefer.
8. Salt to taste and garnish with parsley.
Serves 6 to 8 as an appetiser