Playing Favourites
Each recipe I share, in my book or here, in my blog,  I have made it over and over, perfecting and refining …so as to share with everyone around me its purest essence, every time.
This, however, is a treasure I am sharing with some extra love, as it is my personal favourite, since childhood. It actually took me some time to make my very own version.I make large batches, stocking my pantry with beautiful jars filled with delicious tanginess.
Sweet, spicy, slightly tingling; with delicious small bits of fresh, ripe fruit preserving  their best qualities, locking them in a zesty embrace of the finest seasonings….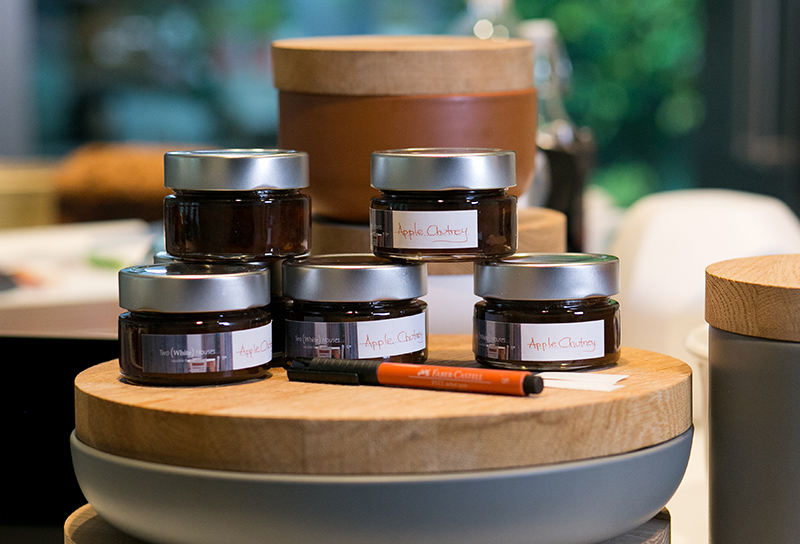 This recipe has become such a "Sandra staple" that my friends look forward to a little jar as a give away…
A lovely companion of cold meats, cheeses and, my way of enjoying it, some fresh multigrain bread.
I made a huge quantity of various chutneys, for the night of my book signing party. And what a night it was!
Loving, familiar faces all around, talking to each other, warmed up by a happy feeling of true friendship, hands leaning over each other, to reach and share some more of my apple and prune chutney, the essence of my cooking.
The tie that binds me, my love for creation and sharing with the people I treasure in my life.
---
Spicy Apple & Tomato Chutney
Ingredients
125 g dried prunes
350 g cider vinegar
500 g soft brown sugar
1 teaspoon dry mustard
1 teaspoon ground cinnamon
½ teaspoon salt
½ teaspoon cayenne pepper
500 g apples, peeled, chopped and cored
150 g raisins
175 g onions, chopped
250 g tomatoes, skinned, seeded and chopped
Method
1. Cover the prunes with the water and boil for 10 minutes. Drain, and remove the stones and cut into small pieces.
2. Combine the vinegar, sugar, mustard, cinnamon, salt and cayenne in a stainless steel pan.
3. Heat to boiling and add the apples, prunes, raisins, onions and tomatoes,
4. Boil covered, stirring frequently with a wooden spoon. When mixture is of the desired consistency, in about 30 minutes, pour it into hot sterilised jars and seal.
Makes 5 jars of 350 ml capacity