Creativity is not limited…
A  simple and delicious comfort food can be found in eggs, cheese and some earthy mushrooms…
Serve your frittata while filling up your glass with some chilled, white wine and sit back, indulge your taste buds with its nice, rich sensation and round up the day with a thank-you dinner to the person you value the most: Yourself…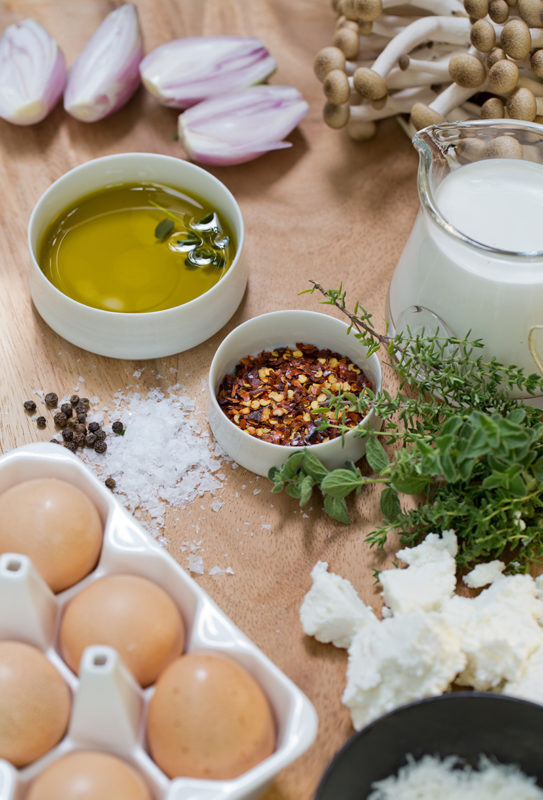 ---
Mushroom, Goat Cheese and Herb Frittata
Ingredients
4 tablespoons extra-virgin olive oil
2 shallots, finely chopped
1 cup mixed mushrooms, chopped
1 teaspoon fresh thyme, minced (½ teaspoon dried thyme may be used instead)
1 teaspoon fresh oregano, minced (½ teaspoon dried oregano may be used instead)
¼ teaspoon red pepper flakes
salt
pepper, freshly ground
8 large eggs
3 tablespoons heavy cream
125 g fresh goat cheese, crumbled
⅓ cup freshly grated Parmesan cheese
Method
1. Mushroom mixture: Preheat the oven to 180°C (350°F). Over a medium-high heat warm 1 tablespoon of the extra virgin olive oil in a large, non-stick, oven-safe frying pan. Add the shallots, mushrooms, thyme, oregano and red pepper flakes, season with salt and pepper (to taste), and sauté, stirring often, until the shallots are soft and the mushrooms have released most of their liquid; for about 5 to 7 minutes. Remove from the heat.
2. Egg mixture: In a large bowl, using a fork, whisk together the eggs, cream, ½ teaspoon salt and 4 or 5 grinds of pepper, until blended. Add the shallot-mushroom mixture and the crumbled goat cheese. Stir with a wooden spoon and set aside.
3. Rinse out the frying pan and again place it over a medium-high heat. Warm the remaining 3 tablespoons oil. Pour in the contents of the bowl, making sure to spread the mushrooms, shallots and cheese in an even layer over the pan. Tilt the pan to allow the liquid egg in the centre to run underneath. Cook until the eggs are firmly set along the edges but the centre is still loose, 8 to 12 minutes.
4. Sprinkle Parmesan over the frittata. 
Bake the frittata in the oven, on the highest rack, until the top is set and golden, about 2 minutes.
Carefully remove the pan from the oven Loosen the edges of the frittata and slide it onto a serving plate. Let it cool for 10 minutes. Cut into wedges and serve warm or at room temperature.
Serves 4 to 6