Espresso!  A compelling combination of cake and coffee…
This is the ideal partner to a strong cup of espresso or Americano coffee…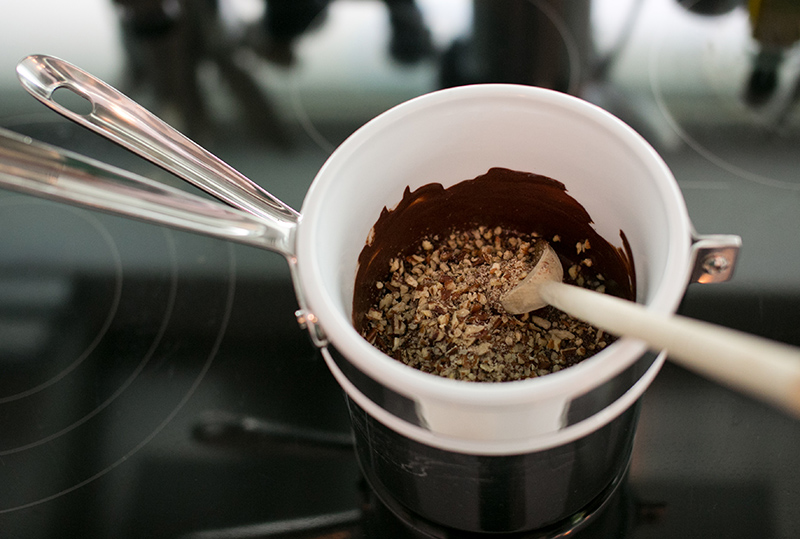 What makes it so interesting is the 360° experience it provides, since it has three different qualities,.
Three very interesting textures that complete and complement one another:
The cake is embraced by a moist chocolate pecan swirl and topped by a deliciously crunchy layer that resembles my favourite part of an apple crumble. But what I love most about this recipe is that the bitterness of coffee balances out the sweetness of sugar… makes it irresistible!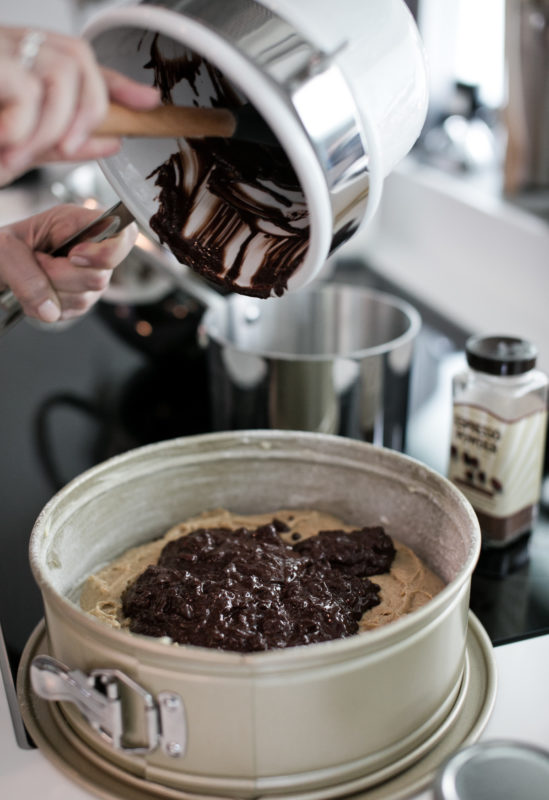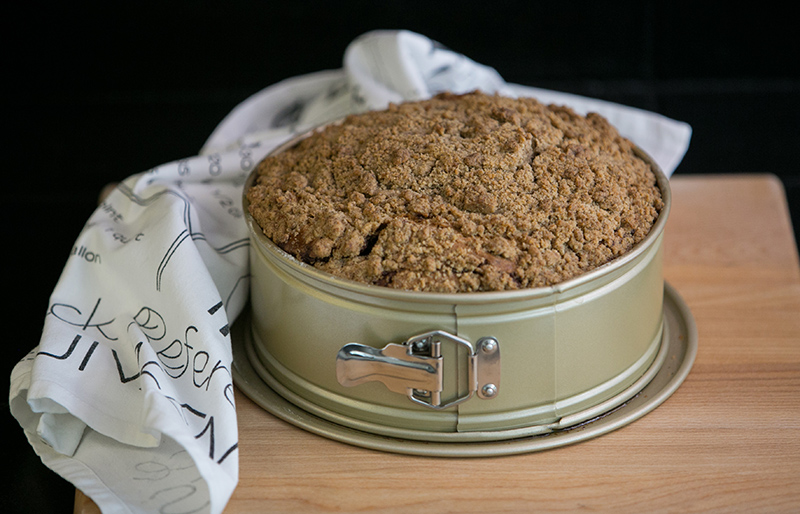 ---
Espresso 3D Cake
Ingredients
For the crumb topping:
1 cup all purpose flour
170 g butter, unsalted, cubed
¼ cup light brown sugar
¼ cup icing sugar
2 teaspoons instant espresso powder *
¼ teaspoon salt
For the chocolate swirl:
170 g chocolate, semi-sweet
2 tablespoons butter, unsalted
¾ cup pecan nuts, lightly toasted and chopped
¼ cup espresso coffee
For the cake:
Dry ingredients:
2½ cups all purpose flour
2 teaspoons espresso powder
1 teaspoon baking powder
1 teaspoon baking soda
1 teaspoon cinnamon
½ teaspoon salt
Coffee mixture:
¾ cup brewed coffee
1 cup yogurt
1 teaspoon vanilla extract
Batter:
1¼ cups sugar
120 g butter, unsalted
4 eggs
1 teaspoon salt
Method
1. For the crumb topping: Using your fingers, combine the flour, butter, brown sugar, icing sugar, espresso powder, and salt in a medium bowl until the mixture sticks together when pressed. Chill until ready to use.
2. Chocolate swirl: Melt the chocolate and the butter in the top of a double boiler over a medium heat. Remove from the heat and stir in the pecans, coffee, and granulated sugar. Set aside.
3. For the cake: Preheat the oven to 170℃ (350°F). Butter a deep, round springform pan, tapping out the excess flour. In a bowl sift together the dry ingredients: flour, espresso powder, baking powder, baking soda, cinnamon, and salt. In a medium bowl whisk together the coffee mixture: coffee, yoghurt, and vanilla.
4. Batter: Beat the sugar and butter in a stand mixer fitted with a paddle attachment until light and fluffy, about 3 minutes. Beat in the eggs one at a time, mixing well after each addition. Add dry ingredients in 3 additions, alternating with coffee mixture, scraping down the sides of the bowl after each addition.
5. Scrape half of the batter into the prepared pan. Smooth the surface. Drizzle the chocolate swirl mixture over it. Add the remaining batter. Smooth the surface and sprinkle the crumb topping over it.
6. Bake the cake until a tester inserted into the centre comes out clean, 50 to 60 minutes. Let the cake cool completely in the pan on a wire rack.
7. Open the springform pan and lift the cake gently onto a large plate and serve.
* Instant coffee may be substituted.