A Man's World…
This is one of the best-kept secrets on how to keep a man happy. This recipe is the fittest foreplay for a rich, sensuous one-on-one dinner, ideal for a cold evening that you have decided to spend indoors.
Just before serving supper, after he has made himself comfortable on the sofa, warm up a hefty dose of this delicious bar snack and fill your house with the spicy and tingling aura of the nuts.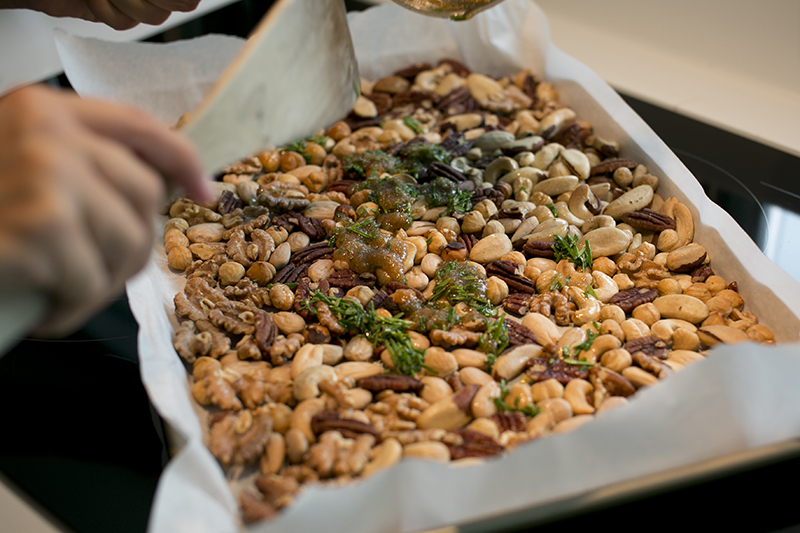 Their inviting aroma, as they are turning gold in the oven, until they are served and reach the side table, next to a heavy, crystal glass of whiskey on the rocks, leaves no clue as to your intentions to keep your guest happy.
Men love savoury snacks that combine sweetness with spiciness as they get them warmed up for what is next to come without filling them, but just barely opening up their appetite for the main course…
---
Warm & Spicy Bar Nuts
Ingredients
120 g cashews
120 g Brazil nuts
120 g hazelnuts
120 g walnuts
120 g pecans
120 g whole almonds
2 tablespoons rosemary, fresh, coarsely chopped ½ teaspoon cayenne pepper
2 teaspoons brown sugar
2 teaspoons salt
2 tablespoons butter, melted
Method
1. Preheat the oven to 175 °C (350°F).
2. Nuts: Toss all the nuts into a large bowl. Combine. Spread the nuts over a baking sheet. Toast in the oven until they become a light, golden brown colour, about 10 minutes.
3. Spice butter: In a large bowl, combine the rosemary, cayenne, brown sugar, salt and the melted butter.
4. Toss the warm, toasted nuts in the spiced butter. Adjust the seasoning. Serve warm.
Total 15 minutes