Set the Tone…
Drinks before dinner are becoming a thing again… yes, this is 1960's dining style…
This ritual never stopped… It is becoming stronger again, with dinner nights at home taking the place they once had in our lives, a long time ago. Meaningful and real.
So, now you have everything ready for tonight's dinner…
Are you sure? Have you made any plans as to how you are going to serve your martinis? You could, once again, follow the great path of freshly grounded nuts. But maybe tonight is the night for something extra… something playful but also thoughtful.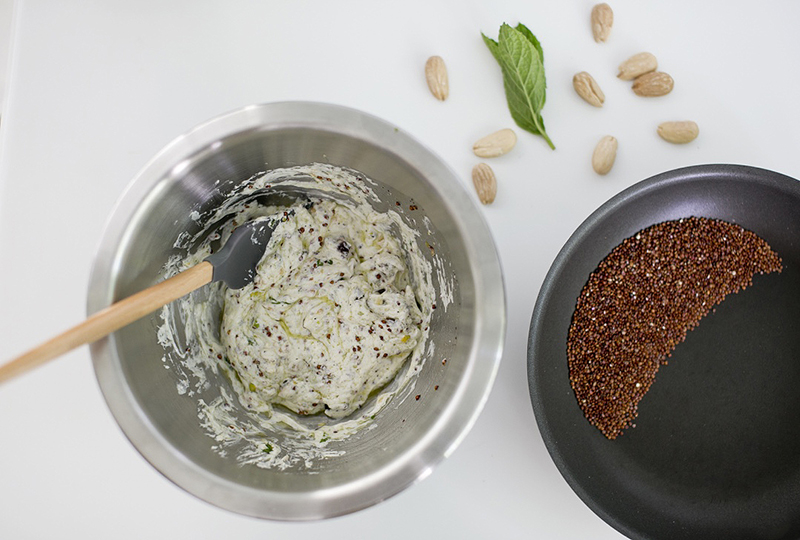 Healthy, earthy ingredients make this appetizer a  modern affair, serve on, thinly sliced multi-grain bread. Spinach and garlic bring in the depth; the popped quinoa adds the extra crunch and wholesomeness, while the toasted nuts create a complex result, cooled down by the rich and creamy yoghurt.
Nice and creamy, nutty and savory… what really makes things move in this pre-dinner treat is the dates…
The little sweetness they bring, without the guilt of processed sugar but with the perfect sweet twist to the hint of lemon zest that finds its way in…
Quite the conversation starter, don't you think?
---
Spinach Spread with Toasted Quinoa, Dates & Almonds
Ingredients
3 tablespoons olive oil
200 g fresh spinach, washed and dried
1 garlic clove, peeled and crushed
2 teaspoons red quinoa
20 g salted pistachio nuts
30 g almonds
200 g yogurt, from whole milk and Greek
6 dates, pitted and chopped
1 teaspoon lemon zest, freshly grated
flaky sea salt
Method
1. Preheat the oven to 175°C (350°F). In a large pan, heat 1 tablespoon of the olive oil over a medium temperature. Add the garlic and cook until lightly browned, for 3 to 5 minutes.
2. Add the spinach in two batches, allowing the first batch to wilt before adding the second; cook for another 5 to 7 minutes. Transfer to a colander and drain, pressing to release all excess liquid.
3. In a small frying pan over a medium heat, toast the quinoa until it starts popping. Set aside.
4. On a small baking sheet, spread the pistachios and almonds and toast in the oven, for 5 minutes. Remove and let cool.
5. In a bowl, add drained spinach and mix with the yogurt. Add quinoa, pistachios, almonds, dates, lemon zest and sea salt. Finish with a sprinkling of olive oil and mix gently to combine.
Spread over multigrain bread and enjoy with your drinks before dinner.