Set the Tone…
Healthy, earthy ingredients make a modern and surprisingly delicious appetizer when served with thinly sliced, multi-grain bread.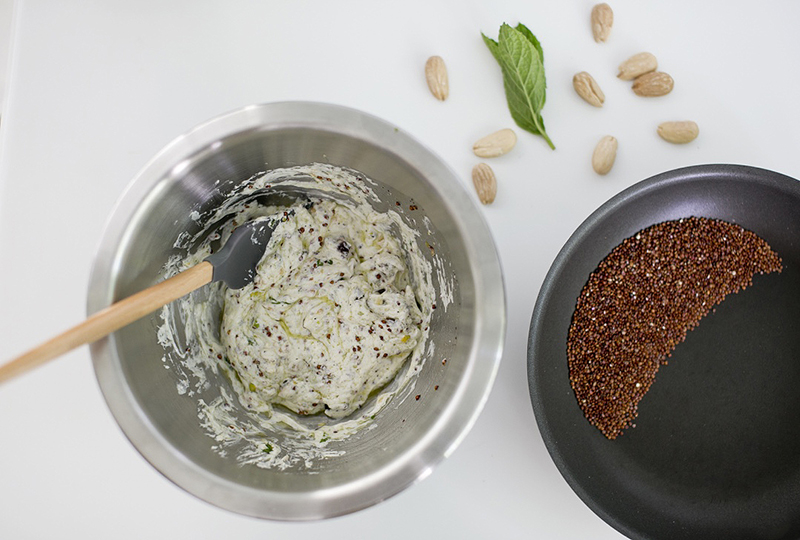 Spinach, lemon and garlic bring in the depth; the dates add a touch of sweetness, the popped quinoa adds the extra crunch, while the toasted nuts create a complex result, cooled down by the Greek  yoghurt…
---
Spinach Spread with Toasted Quinoa, Dates & Almonds
Ingredients
3 tablespoons olive oil
200 g fresh spinach, washed and dried
1 garlic clove, peeled and crushed
2 teaspoons red quinoa
20 g salted pistachio nuts
30 g almonds
200 g yogurt, from whole milk and Greek
6 dates, pitted and chopped
1 teaspoon lemon zest, freshly grated
flaky sea salt
Method
1. Preheat the oven to 175°C (350°F). In a large pan, heat 1 tablespoon of the olive oil over a medium temperature. Add the garlic and cook until lightly browned, for 3 to 5 minutes.
2. Add the spinach in two batches, allowing the first batch to wilt before adding the second; cook for another 5 to 7 minutes. Transfer to a colander and drain, pressing to release all excess liquid.
3. In a small frying pan over a medium heat, toast the quinoa until it starts popping. Set aside.
4. On a small baking sheet, spread the pistachios and almonds and toast in the oven, for 5 minutes. Remove and let cool.
5. In a bowl, add drained spinach and mix with the yogurt. Add quinoa, pistachios, almonds, dates, lemon zest and sea salt. Finish with a sprinkling of olive oil and mix gently to combine.
Spread over multigrain bread and enjoy with your drinks before dinner.