Spice it Up
If you like burning zesty spiced up candles to get your house in the mood on a cold afternoon, you are going to love preparing this recipe. It requires an extra portion of patience to chop all this fruit but it is definitely worth it! The preparation will keep you busy and creative too…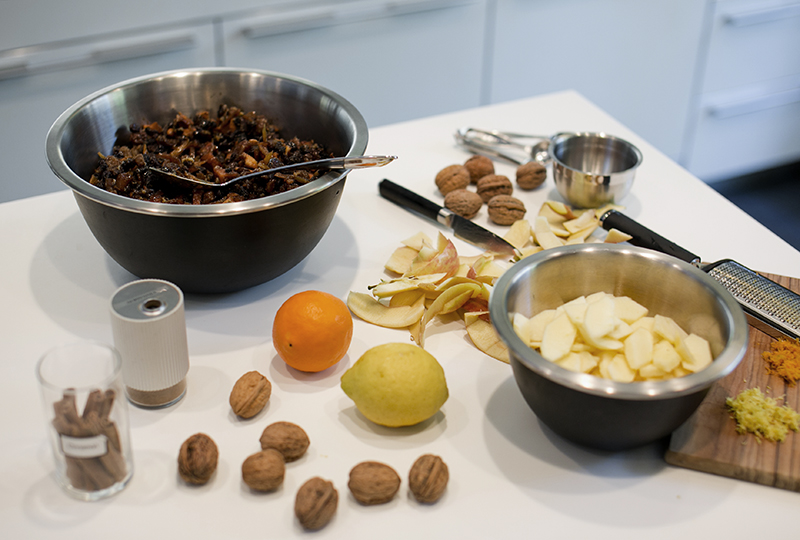 Make this filling and preserve it in jars. You can add it to the "Sunday apple strudel" in my book or with Christmas Apple Crumble or in any fruit pies you like to make, to highlight their aromas and flavours.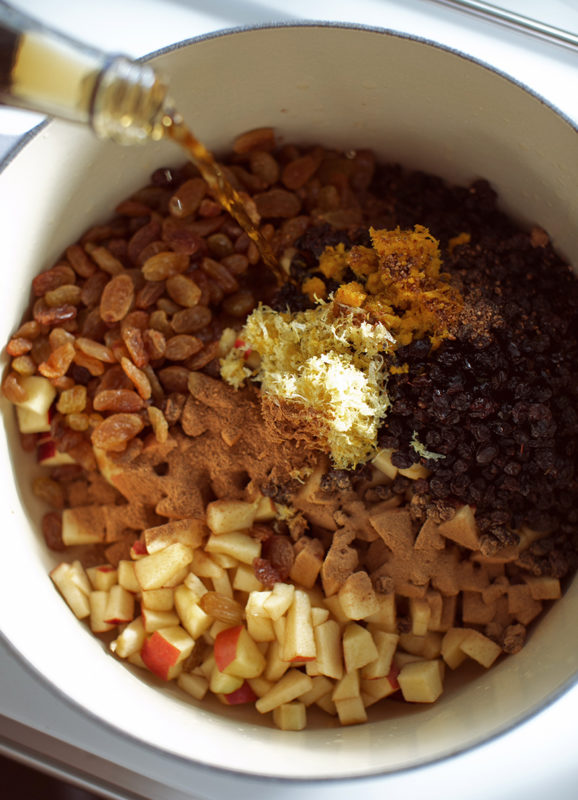 ---
Spicy Fruit Filling for Pies
Ingredients
450 g apples, cored and chopped small (no need to peel them)
225 g butter, unsalted
350 g raisins
225 g sultanas
225 g mixed candied citrus peel 
350 g muscovado sugar
2 oranges, grated zest
2 lemons, grated zest
50 g almonds, cut into slivers
4 teaspoons mixed allspice
1 teaspoon ground cinnamon
½ teaspoon ground nutmeg
½ cup brandy
Method
1. In a large mixing bowl combine all the ingredients except for the brandy. Stir, mix together well, and cover the bowl with a clean cloth. Leave the mixture in a cool place overnight or for 12 hours, so the flavours blend together.
2. Preheat the oven to 120°C (250°F). Transfer the mixture to a casserole dish and cover loosely with the lid. Place it in the oven for 3 hours.
3. Remove from the oven and as the mixture cools stir from time to time, adding the brandy. Ladle warm jam into sterilised jars; seal, label, and keep in a cool dark place. To be used as a filling in the "Sunday apple strudel" (recipe p. 305) or a couple of tablespoons can be used to enhance any fruit pie mixture.
Makes 5 jars of 350 ml capacity