Little Wonder
Baby spinach …
These tender little spinach leaves are full of antioxidants and their taste is somewhat more concentrated and interesting when it comes in tiny little portions.
Choose short pasta like penne or orecchiette (a small mental note here, to always trust the Italians and their choices in pasta shapes and sizes, depending on the recipe.)
Handpick tender fresh spinach leaves and bring them together with what the earth gives us in abundance in the Mediterranean: Walnuts, garlic and freshly squeezed lemon.
Once your ingredients warm up in the pan, all wrapped in virgin olive oil, you can hear the music of a fine-tuned instrument playing its first notes… Before it dives into the warm pasta water that carries in its warmth, the starch that will prepare your sauce for the perfect marriage to the cooked pasta.
Does adding water taken from the cooked pasta make a difference?
 "of course".
Pasta is one thing, the sauce is another, and this is the only way the two can blend together in perfect harmony.  Some like to add a little bit of wine while simmering the sauce.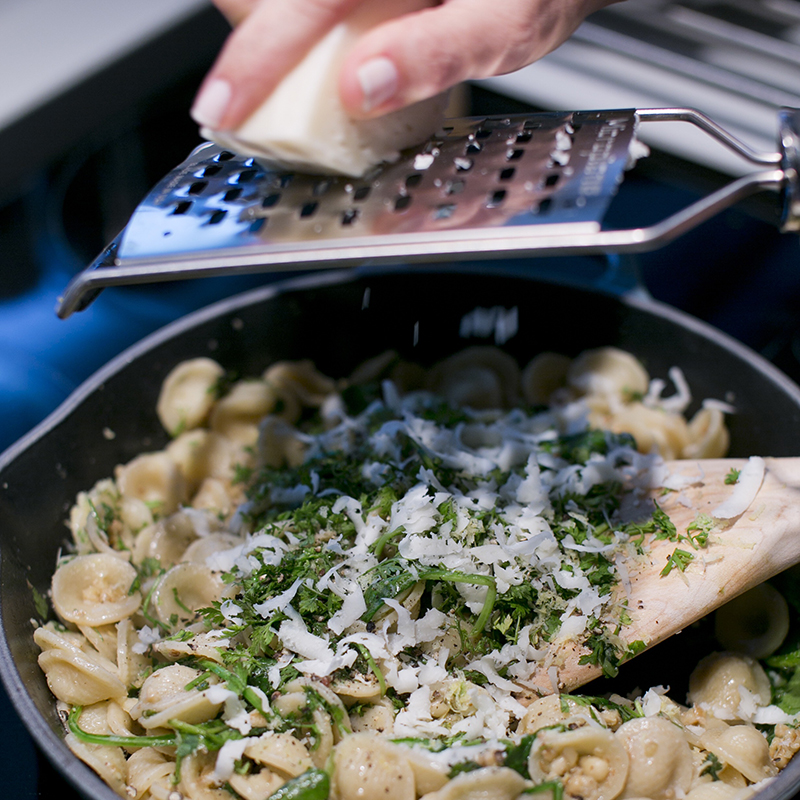 You, however, will keep it out of the equation here, as lemon must be the main catalyst.
Wine will show up only at the very end, as the perfect finishing touch.
With that very first sip, it will all make sense.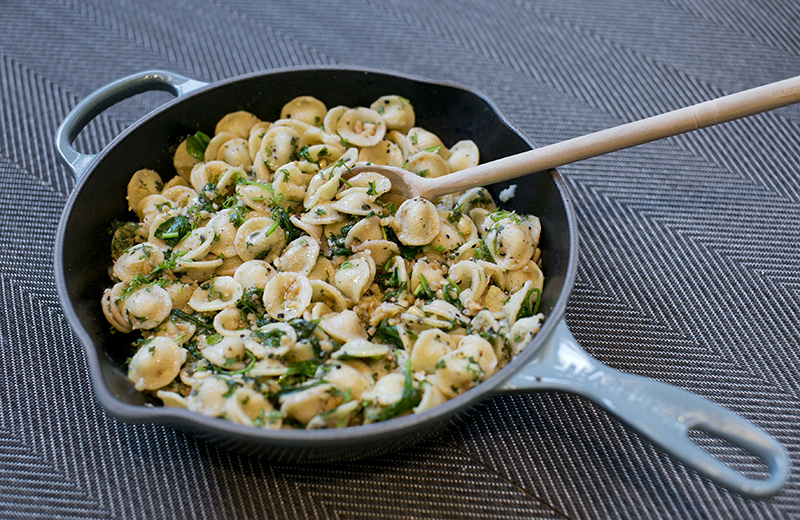 ---
Pasta With Spinach Lemon & Walnuts
Ingredients
4 tablespoons virgin olive oil
3 cloves garlic, peeled and minced
150 g walnuts chopped
200 g baby spinach, washed and dried
¼ cup lemon juice
1 tablespoon lemon zest
½ cup chervil, chopped
500 g dried pasta, a short pasta similar orchette or penne
1 cup Pecorino or Gruyere cheese
salt
pepper, freshly ground, to taste
Method
1. Bring a large pot of salted water to boil. Cook pasta until al dente (2 minutes less than the packet's instructions). Drain pasta and reserve some water.
2. Sauce: In a deep and wide pan, melt the butter, add the garlic and walnuts; sauté. Stir in the spinach until it has wilted. Add the lemon juice and rind. Add 1 or 2 ladlefuls of pasta water to the pan. Lower the heat and keep at a low simmer, for 2 to 3 minutes. Combine drained pasta with the sauce and sprinkle the chervil. Add salt and freshly ground pepper to taste. Sprinkle with Pecorino or Gruyere cheese and mix to combine.
3. Serve in warm pasta bowls with extra helpings of cheese and a glass of dry white wine.
Serves 4 to 6