Pasta Perfect
All us pasta lovers know that when the sun hits the highest point in the sky, it's time for us to let go of our beloved carbonaras and bolognaise, and switch to different ways of enjoying our favourite carbs.
What I love most about pasta, apart from all the different shapes and sizes that each find their perfect match with the right sauce and ingredients, is the simple fact that you can treat it as a base.   
Just like rice and noodles, pasta can become anything you wish it to be, from a heavy, rich winter dish to a light and flavourful summer lunch.
This recipe I am posting today feels to me like summer on a plate. The sweet cherry tomatoes meet the fresh basil leaves, in a beautiful twirl with a surprising base of garlic, sun-dried tomatoes and chilli.
The Kalamata olives play around like little divers in a sea of taste and goodness, while the sweet and zesty balsamic vinegar is here to complete the wholesomeness of the meal, only if you wish it.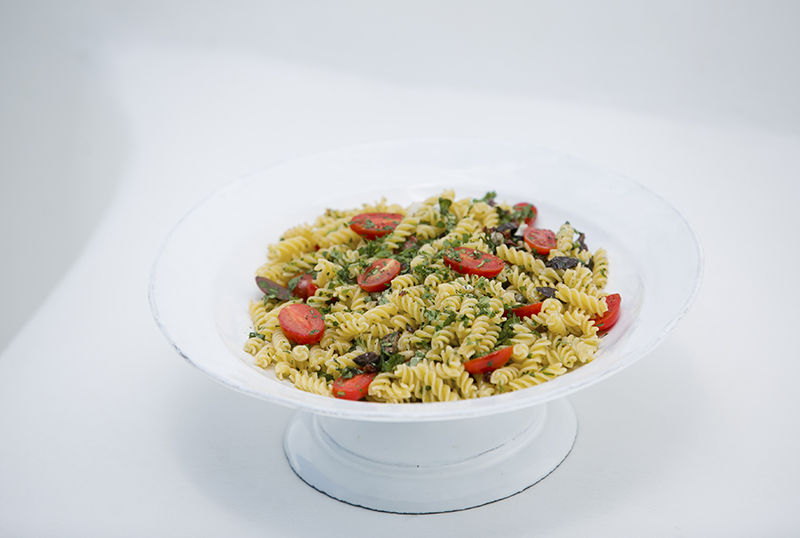 The trick here is in the blending. Cook the pasta al dente to give it some room to further evolve while embraced with the rest of the ingredients, once they are ready. This is the only way to let your pasta soak in all the different levels of taste and aromas, right before it rests in your plate to create that missing piece in your summer kaleidoscope of happiness.
---
Greek Style Pasta Salad
Ingredients
500 g fusilli pasta
6 tablespoons olive oil
3 tablespoons balsamic vinegar
2 garlic cloves, crushed
1 cup cherry tomatoes, sliced in half
⅔ cup sun-dried tomatoes; packed in oil, drained and sliced
8 to 10 Kalamata olives (or other brine-cured, black olives), cut in half and stoned (i.e. remove the stone from the olive)
3 tablespoons fresh basil leaves, thinly sliced
pepper, to taste, freshly ground
sea salt, to taste
Method
1. Tomato mixture: Place the cherry tomatoes, sun-dried tomatoes, olive oil, balsamic vinegar, garlic, olives, salt and pepper in a large bowl; toss. Let stand at room temperature for at least 30 minutes — or until the tomatoes release their juices — tossing occasionally.
2. For the pasta: Bring a large pot of salted water to boil. Cook the pasta as the packet directs. Drain, and add to the tomato mixture; toss lightly.
Let stand until it reaches room temperature. Add the fresh basil; toss.
Serve or refrigerate. It keeps in the refrigerator for a couple of  days.
Serves 4 to 6