Fresh and Greek
This is a delightful summery salad that is easy to prepare and looks as vibrant as it tastes with the ingredients of a Greek salad and more…You can create your own recipe by adding some capers, feta cheese, onion… just use your imagination!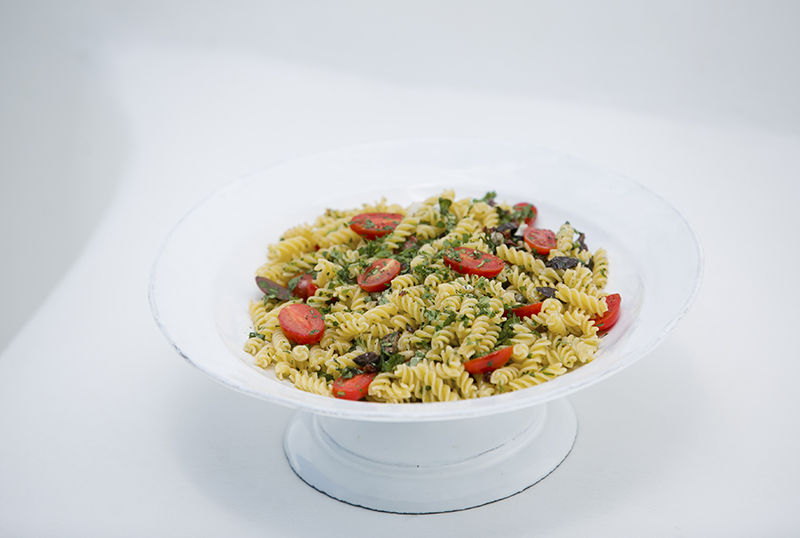 ---
Greek Style Pasta Salad
Ingredients
500 g fusilli pasta
6 tablespoons olive oil
3 tablespoons balsamic vinegar
2 garlic cloves, crushed
1 cup cherry tomatoes, sliced in half
⅔ cup sun-dried tomatoes; packed in oil, drained and sliced
8 to 10 Kalamata olives (or other brine-cured, black olives), cut in half and stoned (i.e. remove the stone from the olive)
3 tablespoons fresh basil leaves, thinly sliced
pepper, to taste, freshly ground
sea salt, to taste
Method
1. Tomato mixture: Place the olives, cherry tomatoes, sun-dried tomatoes,olive oil, balsamic vinegar, garlic, olives, salt and pepper in a large bowl; toss. Let stand at room temperature for at least 30 minutes — or until the tomatoes release their juices — tossing occasionally.
2. For the pasta: Bring a large pot of salted water to boil. Cook the pasta as the packet directs. Drain, and add to the tomato mixture; toss lightly.
Let stand until it reaches room temperature. Add the fresh basil; toss.
Serve or refrigerate. It keeps in the refrigerator for a couple of  days.
Serves 4 to 6