Comfort Classics
Fragrant and warming this classic beef loaf …. is perfect for a family Sunday lunch, served with plain rice or pasta.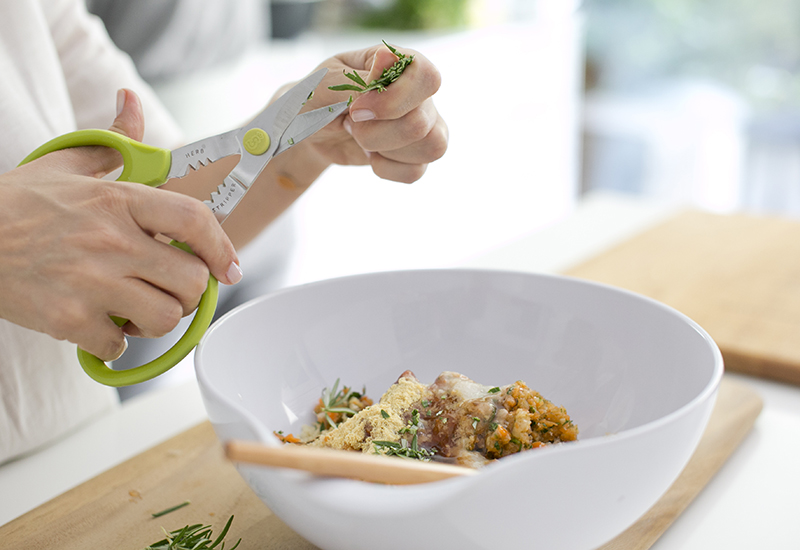 ---
Old-Fashioned Meat Loaf
Ingredients
For the meatloaf:
2 tablespoons butter, unsalted
½ cup onions, finely chopped
1 garlic clove, peeled and minced
⅓ cup carrots, grated
1 tablespoon fresh thyme leaves, crumbled
¾ teaspoon salt
¼ teaspoon black pepper, freshly ground
1 tablespoon Worcestershire sauce
500 g ground lean beef
¾ cup rolled oats (or fresh bread crumbs)
1 large egg, lightly beaten
¼ cup whole milk
½ cup vegetable stock
For the Topping:
1 tablespoon butter, unsalted
1 onion, sliced in rounds
2 tablespoons ketchup
2 teaspoons light brown sugar
1 teaspoon mustard powder
1 rosemary sprig
Method
1. Preheat the oven to 170°C (340°F).
2. Onion mixture: Over a moderate heat, melt the butter in a large, heavy frying pan. Add the onions, garlic carrots and thyme; stir for 5 minutes. Cover, reduce the heat to low, stirring occasionally, until the carrots are tender, for about another 5 minutes. Add the salt, pepper, thyme, Worcestershire sauce and stir for another minute.
3. Meatloaf mixture: Transfer the onion mixture to a large bowl and add the ground beef, rolled oats, beaten egg and milk. Knead it with your hands; do not over mix. Place it on the prepared baking dish, patting it into a loaf shape with your hands. Pour the vegetable stock around the loaf.
4. To make the topping: Over a moderate heat, melt 1 tablespoon of butter in a non-stick frying pan. Add the onion rounds and cook until softened and coloured, for 2 minutes. Set aside.
In a small bowl, combine the ketchup, brown sugar, and mustard. Spoon the topping over the meat loaf, using the back of the spoon to spread it evenly. Add the cooked onion slices. Top with the rosemary sprig.
5. Bake the meat loaf for about 45 minutes, or until the meat is no longer pink on the inside and it is cooked through. Let the meat loaf stand — loosely covered with foil, for 5 minutes before slicing it. Serve over a bed of plain white rice with its sauce drizzled over it.
Serves 6 to 8