Cool and Green…
This rice salad is really fresh and green.
This is a delightful summery salad that is easy to prepare and looks as vibrant as it tastes…
Tossed with the other components the rice grains absorb the flavourful dressing..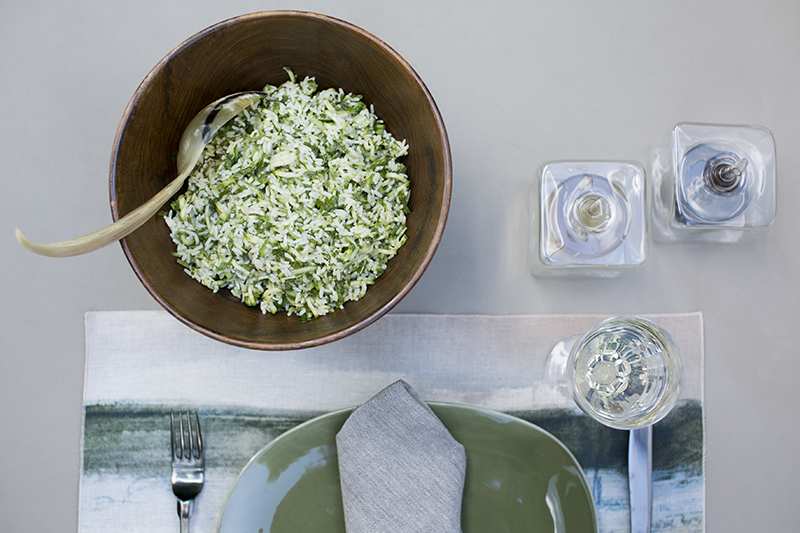 ---
Fresh and Green White Rice Salad
Ingredients
For the salad:
2 cups vegetable stock
1 cup long grain, white rice
½ cucumber, washed, julienned (keep skin)
125 g courgettes, trimmed, julienned
6 spring onions, trimmed thinly and sliced thinly
1 tablespoon chives, finely chopped
3 tablespoons flat-leaf parsley, chopped
For the dressing:
½ teaspoon Dijon mustard
½ teaspoon salt
black pepper, freshly ground
2 tablespoons sherry vinegar
4 tablespoons extra virgin olive oil
Method
1. In a pan bring the vegetable stock to a boil. Add the rice. Reduce heat to a simmer, cover, and cook the rice until tender and the stock is absorbed, 15 to 20 minutes. Set aside to cool.
2 .For the salad: Transfer the cooled rice to a large salad bowl, add the cucumber (including the skins) and courgettes. Mix together. Stir in the spring onion slices, chives and parsley.
3. For the dressing: In a small bowl whisk together the mustard, salt, black pepper, vinegar and oil.
4. Pour the dressing over the salad. Toss and serve.
Serves 4 to 6
Notes: Keeps in the refrigerator for two days. Serve at room temperature with crisp, round lettuce leaves.