Snap peas are such a wonderful source of protein and this is the perfect season for enjoying them at their freshest.  These succulent and delicious little spring marbles are so rich in folic acid, vitamin K and vitamin A.
This recipe here is a good example of how you can add almost anything to your diet, as long as you mix it with pasta!
Pasta is indeed a great base for all kinds of different ingredients, flavours and textures. All you have to do is create a hearty sauce by placing together all the right team players. Snap peas combine well with garlic and fresh onion slices, and lemon is the ideal catalyst that brings everything forth in a feisty and delicious swirl.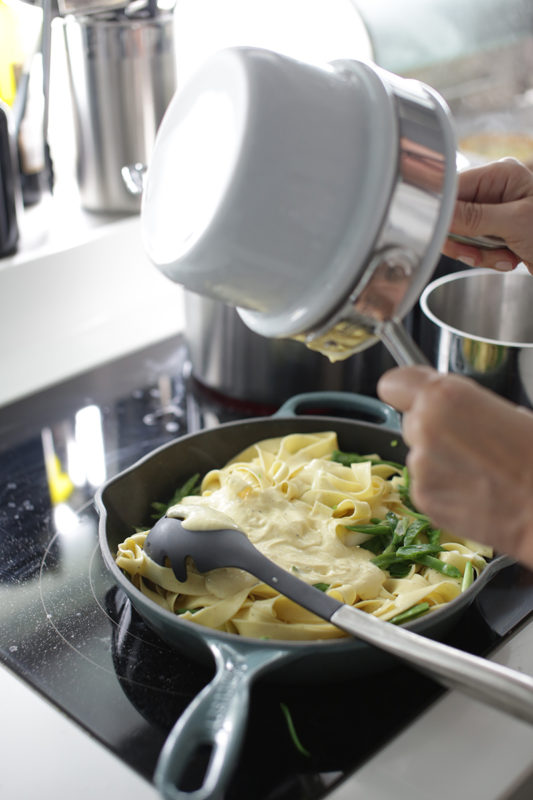 This recipe is so full of things that are good for you, that we couldn't help but act a little bit naughty by using some rich crème fraîche to tie everything together, in meaningful and subtly divine bites. An extra hour at the gym will be well worth it!
---
Fresh Creamy Tagliatelle with Snap Peas
Pasta la Vista!
Ingredients
2 large egg yolks
1½ cups crème fraîche
50 g butter, unsalted
1 garlic clove, finely grated or chopped
150 g Parmesan, finely grated (plus more for finishing the dish)
450 g snap peas, cut on the diagonal into about ½ inch pieces
1 spring onion, white part sliced thin (optional)
600 g fresh Tagliatelle
1 tablespoon lemon zest, grated
black pepper, to taste
salt, to taste
3 tablespoons fresh parsley, finely chopped
Method
1. Set a large pot of water to boil and add salt.
2. For the sauce: Meanwhile, using a double boiler bring 3 to 5 cm (1 to 2 inches) of water to boil. (Note: If you don't have a proper double boiler, two saucepans — one larger and one more shallow and smaller that can fit over the larger one — can easily be used.)
3. In the smaller saucepan (or heatproof bowl) whisk together the egg yolks, crème fraîche, butter, Parmesan, and garlic. Set the saucepan over the boiling water and whisk constantly, scraping the sides. The mixture should cook slowly. Don't let it bubble! It will eventually turn smooth. Cook just until the sauce is thick enough to coat the back of a spoon, about 6 to 8 minutes. Set aside in a warm place.
4. Add the peas to the now boiling water and cook until tender, about 1 minute. Remove with a slotted spoon, and set aside. Add the pasta to the same water in which the peas were cooked and cook until al dente, about 3 minutes. Drain the pasta and keep some warm cooking water.
5. For the pasta: Add the pasta, peas, and spring onions to a wide pan.
Pour in the cream and toss gently but thoroughly. Add the lemon zest. Season with salt and pepper. (Note: Warm cooking water may be used to thin the mixture.)
Transfer to a bowl or plates and sprinkle with parsley and additional Parmesan to finish the dish.
Serves 4