All Wrapped Up…
The Classic Mezze, Dolmadakia… Vine leaves wrapped with all kinds of stuffings..
The fillings vary, I love herbs and nuts and I use all that is in season, pine nuts and rice.
Make sure to be generous, with top quality olive oil, as it binds everything together while cooking and enhances the nutty, earthy flavour of the dish. The olive oil also preserves the dolmadakia and they keep in the refrigerator for a week.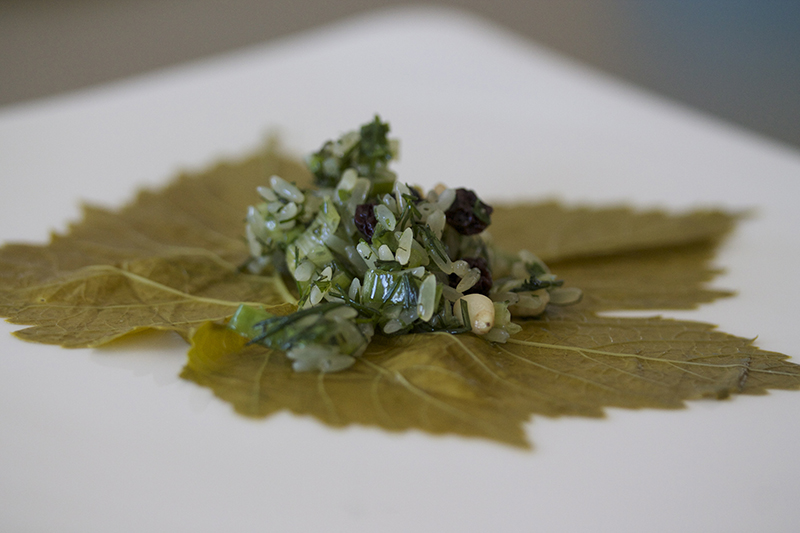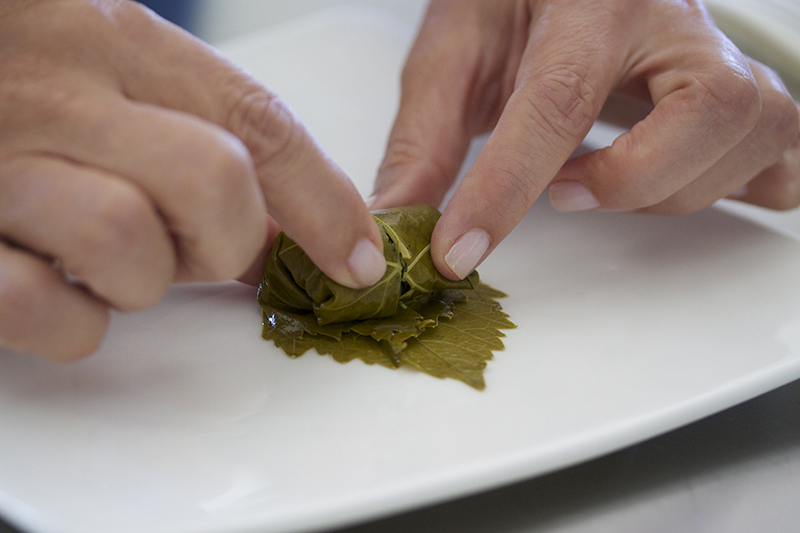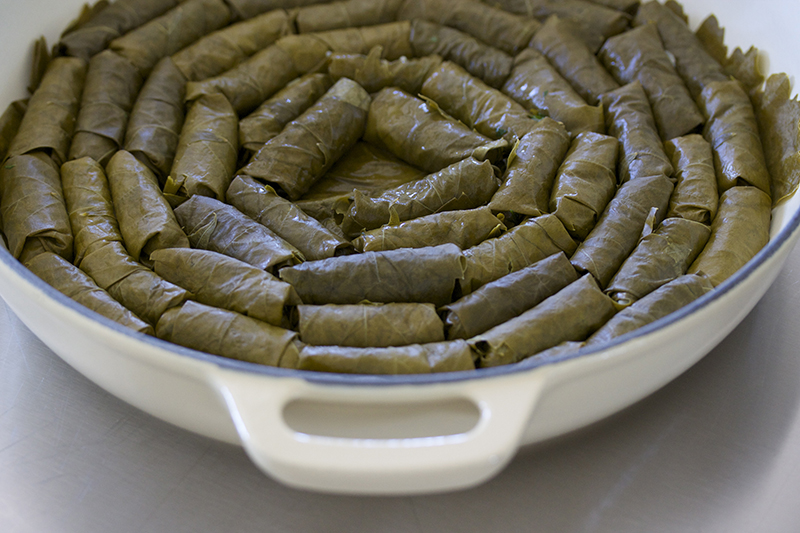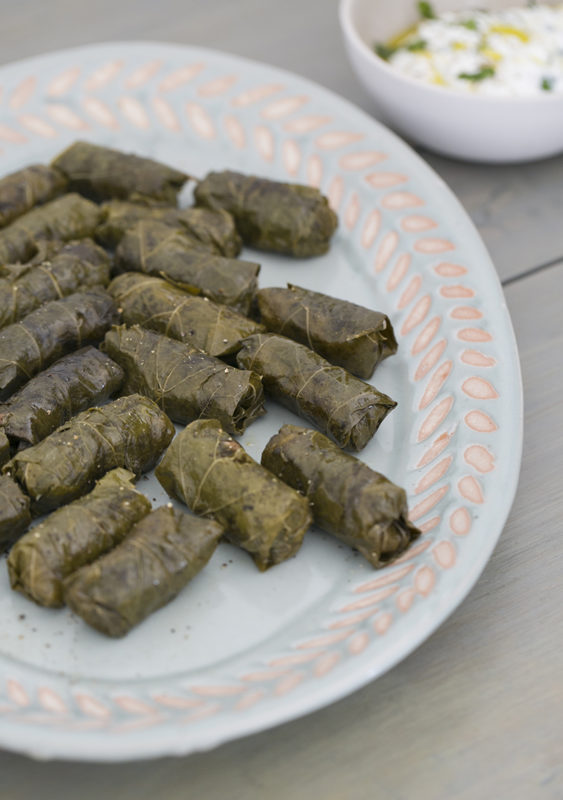 ---
Dolmadakia – Vine Leaves Stuffed with Rice
Ingredients
200 g grapevine leaves, fresh (or those preserved in brine)
¾ cup olive oil
½ cup fresh spring onions, finely chopped
½ cup shallots, finely chopped
1½ cup long grain white rice
½ teaspoon ground cinnamon
1 teaspoon allspice
sea salt, to taste
pepper, freshly ground, to taste
½ cup dried black currants, soaked in white wine
½ cup white wine
½ cup pine nuts
½ cup parsley, finely chopped
½ cup dill, finely chopped
1 tablespoon mint, finely chopped
¼ cup fresh lemon juice
1 cup vegetable stock
1 cup Greek yogurt
Directions
1. If you have fresh grapevine leaves, soften them in boiling salted water. When soft, drain and rinse under cold running water. If using the preserved variety of grapevine leaves, soak the leaves thoroughly in a few changes of water to remove the brine. In either case, cut away the stalks of the leaves.
2. For the stuffing: Heat ¼ cup of the olive oil in a heavy, medium-sized saucepan over a medium-low heat. Add the spring onions and shallots. Sauté until soft, about 10 minutes. Add the rice, cinnamon, allspice, salt and pepper. Stir for 1 minute. Add the pine nuts, drained currants and 1 cup of warm water. Cover and simmer until the rice is tender and the liquid is absorbed, about 10 minutes. Transfer to a bowl. Mix in the parsley, dill and mint. Season with salt and pepper. Cool completely.
3. Lay one of the vine leaves on a flat surface and spoon some stuffing in the middle of the leaf. Pull the leaf over the filling, fold in the sides, then roll into a tight log (try not to over fill, as the filling may ooze out). Arrange the vine leaves, seam side down, in a deep and wide, stove-top pan. Pack them tightly together, layer by layer.
4. In a small bowl mix the remaining ½ cup of olive oil with the lemon juice and vegetable stock. Drizzle the mixture over the stuffed vine leaves and add a grinding of black pepper and salt.
5. Cover and simmer over a medium-low heat until the liquid is absorbed, about 30 minutes.
Uncover and let the stuffed vine leaves cool. Transfer to platter. Cover and chill.
6. Serve in room temperature with a heaping spoonful of yogurt on the side.