Spring loading
Neglected, even underestimated for ages, grains are having their moment in the spotlight in recent years, and it seems they are not likely to step down from their newly established status as simple and delicious power foods. One of my favourites is barley, a wonderfully versatile little gem with a rich, nutty flavour that you can treat like rice or millet, as it has a pasta-like consistency. It is delicious and incredibly filling, and it can act as great comfort food if you cook it into a soup or stew.

The recipe I am sharing with you today uses barley in a clearer form that brings forth its robust taste, alongside its goodness: Packed with phosphorus, magnesium, vitamin B1 and selenium, it has tremendous cardiovascular benefits and it is a fierce warrior against atherosclerosis and cholesterol. I love preparing this salad when I want something fast but efficient, as barley can even remain cooked and stored in the fridge, waiting for the perfect moment when it will come together with hearty green olives, crunchy walnuts, chewy raisins and fresh chives, only to be lifted in heavenly juiciness through the lemon and honey that embraces it.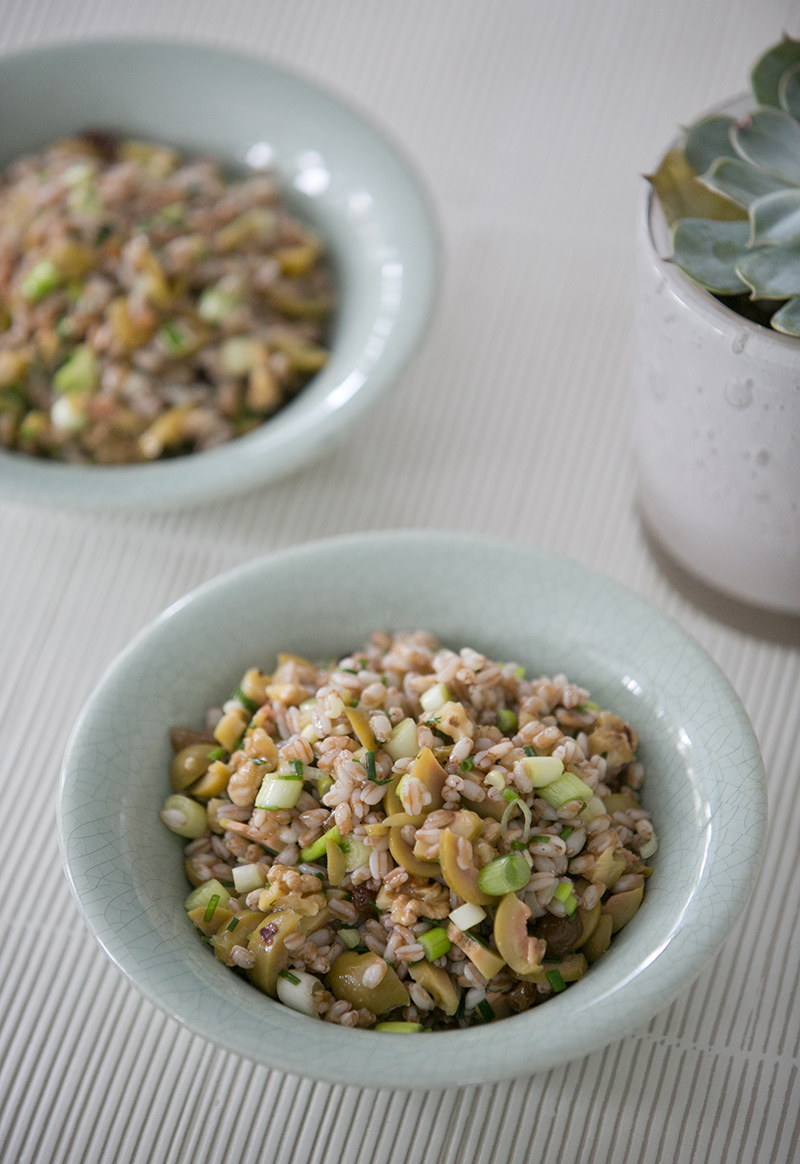 ---
Barley Salad with Green Olives and Toasted Walnuts
Ingredients
1 ¼ cups barley (farro), rinsed in water
3 cups water
sea salt
250 g green olives, rinsed ad pitted and coarsely chopped
¾ cup extra virgin olive oil
90 g toasted walnuts, roughly chopped
4-6 green onions, trimmed and chopped
4 tablespoons chives, minced
pinch or red pepper flakes
1 tablespoon honey
2 tablespoons fresh lemon juice
70 g golden raisins, chopped
Method
1. Combine the barley, water, and 1/2 teaspoon of salt in a saucepan over medium-high heat.
Cover and bring to a boil, then lower the heat to simmer gently for about 15 minutes. Cook until tender, but not so long that the grains become mushy. Drain off any extra water and set aside.
2. In a medium bowl combine green olives with the olive oil, walnuts, green onions, chives, red pepper flakes, honey, lemon juice, raisins, and 1/2 teaspoon of salt.
Stir well and set aside until ready to serve.
3. Combine the olive mixture with the cooked barley in a serving bowl and toss well.
Taste and add more salt or lemon juice if needed.
Serve at room temperature.
Servings: 6