The cookies are is easy to make and will keep for up to three days, without losing their delicious composition.
Chewy and fluffy around the edges, with sudden explosions of melted chocolate…!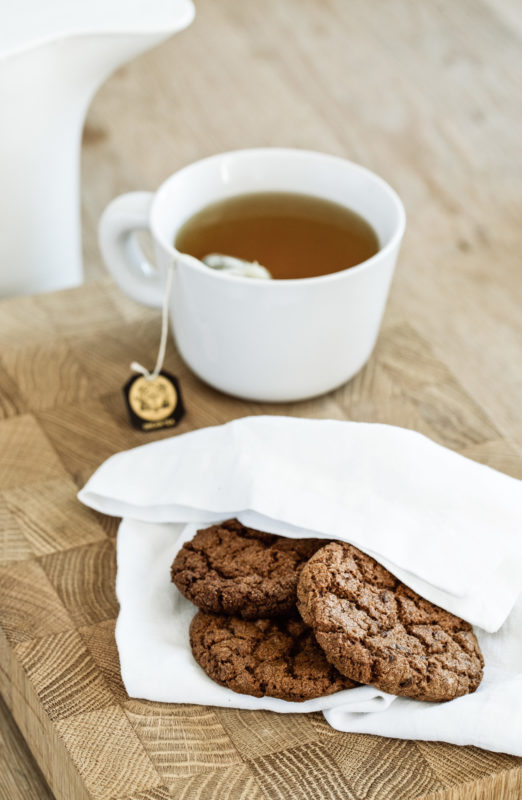 Wholewheat chocolate chip cookies
Ingredients:
3 cups whole-wheat flour
1½ teaspoons baking powder
1 teaspoon baking soda
1½ teaspoons salt
220 g butter; cold, unsalted, cut into 1 cm pieces
1 cup dark brown sugar
1 cup crystallised sugar
2  fresh eggs
2 teaspoons pure vanilla extract
225 g bittersweet chocolate, roughly chopped into ¼ and ½ to 1¼ cm pieces
Method:
1. Place two racks in the oven; one in the upper third and one in the lower third. Preheat the oven to 180°C (350°F). Line two baking sheets with parchment paper.
2. Flour mixture: Sift the dry ingredients into a large bowl, making sure to include in the bowl any bits of grain or other ingredients that may remain in the sifter.
3. In the bowl of a stand mixer fitted with a paddle attachment, add the butter and the sugars.  Mix on low speed, just until the butter and sugars are blended, about 2 minutes — use a spatula to scrape down the sides of the bowl.
4. Add the eggs one at a time, mixing until each is combined. Mix in the vanilla. Add the flour mixture and blend on a low speed until the flour is barely combined about 30 seconds. Scrape down the sides and bottom of the bowl.
5. Scoop mounds of dough — about 1 tablespoons in size — onto the baking sheet, leaving a space of 6 cm between them.
6. Bake the cookies for 16 to 20 minutes. Transfer the cookies, still on the parchment paper, to the counter to cool, and repeat with the remaining dough.
Even though best when eaten fresh, these cookies keep well in an airtight container for up to 3 days.