Festive & Wild
Nutty wild rice, dried cranberries and toasted pecans, all wrapped up in bay leaves and thyme springs…
An alternative mild and nutty winter grain salad.
 On a festive table, it fits beautifully beside the Christmas turkey, along with the traditional stuffing and roasted vegetables…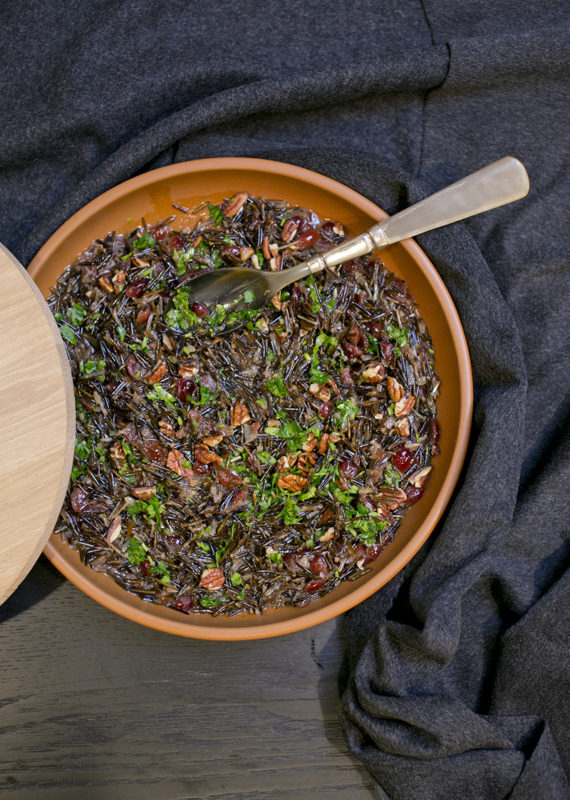 ---
Warm & Festive Wild Rice with Dried Fruit & Nuts
Ingredients
4 cups chicken stock
2 tablespoons butter, unsalted
1 tablespoon olive oil
3 large shallots, minced
2 cups wild rice
½ cup dried cranberries
1 bay leaf
2 fresh thyme sprigs
sea salt
white pepper, freshly ground
½ cup pecans, toasted and chopped
¼ cup flat-leaf parsley, finely chopped
Method
1. Preheat the oven to 190°C (375°F). In a saucepan over a medium-low heat, bring the stock to a simmer.
2. In a big, ovenproof casserole, melt the butter with the oil over a medium heat. Add the shallots and sauté until translucent, for 2 to 3 minutes. Add the rice and stir until grains are well coated, about 3 minutes. Stir in the remaining stock, dried cranberries, bay leaf, thyme, a pinch of salt and some pepper.
3. Bring to a simmer, stir and cover. Transfer the casserole to the oven and bake until all the liquid has been absorbed and the rice is tender, about 40 to 45 minutes.
4. Remove from the oven. Discard the bay leaf and the thyme sprigs. Taste and adjust seasoning.
Stir in the pecans and parsley. Serve warm.
Serves 6 to 8