Pure Perfection
This cake is basic, easy, simple and just divine!
All you need is four basic ingredients and some flavourings. It is the ABC of baking,  a good start for anyone who loves to try getting messy in the kitchen…
This cake reminds me of my son, Alexandros, when he was little. While making this cake he used to sit with me on the kitchen bench, playing with the speed control of the mixer and tasting the batter straight from the bowl. It is one of those moments that, as in mixing the ingredients of a cake together to make a great cake — makes for a wonderful life!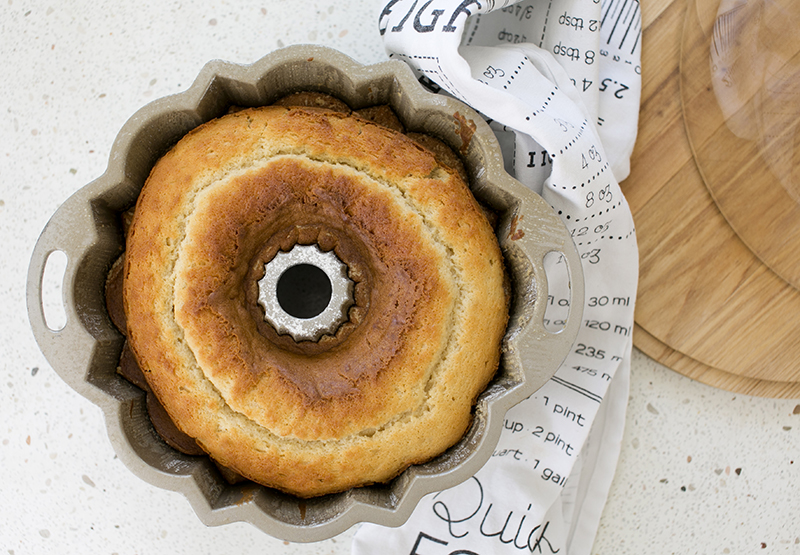 ---
The Ultimate White Cake
Ingredients
220 g butter, unsalted
2 cups white sugar
3 large eggs
1 teaspoon vanilla
2 tablespoons Grand Marnier (any orange flavoured liqueur)
1 cup fresh milk
500 g self rising flour
1 teaspoon baking powder
icing sugar for dusting
Method
1. Place the oven rack in the middle of the oven and preheat to 170°C (340°F). Generously butter and dust a bundt pan with flour, shaking out any excess flour.
2. Beat the butter and sugar in a stand mixer, fitted with a paddle attachment, at a medium-high speed, until pale and fluffy, about 10 minutes. Add the eggs, one by one, beating well after each addition. Add the vanilla and mix.
3. Reduce the speed, add the Grand Marnier, followed by the milk and beat for another 2 to 3 minutes. Reduce speed and add ½ a cup of the sifted flour and the baking powder. Add the remaining flour mixture gradually until just combined. Scrape down the sides of the bowl. Beat at a medium speed for another minute. Pour into the bundt pan.
4. Bake for 50 minutes, until golden. On a rack, cool the cake for 10 minutes. Invert the cake on a platter and let it cool completely before dusting the top with icing sugar.
NOTE  Starting off, the sugar, butter and eggs need a nice, vigorous beating that slows down afterwards. I always use a big bundt cake pan to get a rich and full result.