Raw Power
The ingredients of this dish are basic and very easy to find, and the wasabi and yoghurt sauce is so good and give it a spark…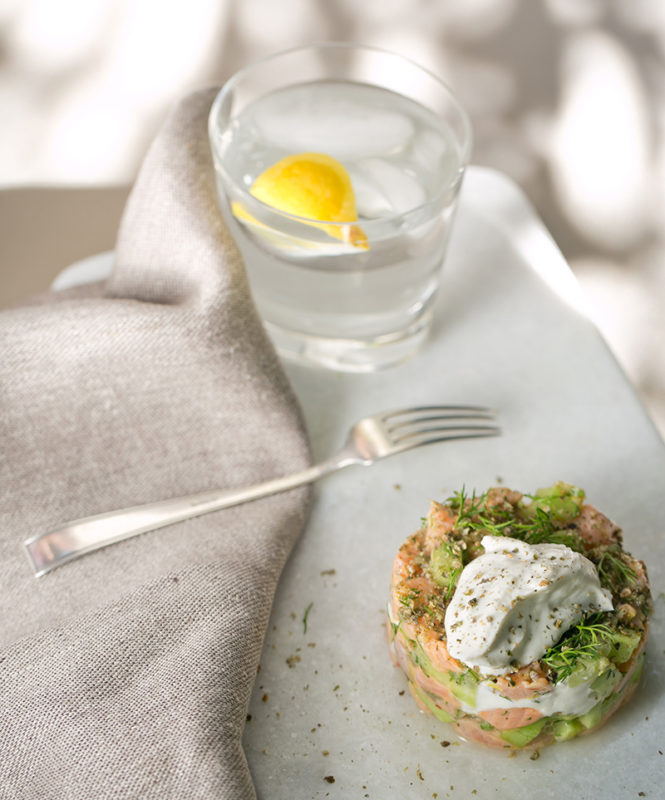 ---
Salmon Tartare
Ingredients
280 g salmon fillets (approximately 2 fillets), very fresh, skinless
¼ cup cucumber, cut in small cubes
2 teaspoons shallot, minced
½ avocado, cut into cubes
1 tablespoon capers; rinsed, dried and coarsely chopped
sea salt, to taste
1½ teaspoons fresh chives, minced
3 teaspoons fresh dill or cilantro, finely chopped
½ teaspoon lemon (or lime), zest
3 tablespoons lemon (or lime) juice, freshly squeezed
1 tablespoon extra virgin olive oil
generous grinding of black pepper
2 teaspoons wasabi paste
6 tablespoons yogurt
Method
1. Place salmon on a plate; freeze until well chilled, about 20 minutes.
2. Thinly slice salmon lengthwise into 2,5 cm-wide sheets. Cut each sheet into 2,5-long strips. Cut strips crosswise into 2,5 cubes. Place salmon in a bowl.
3. For the yogurt-wasabi mixture: In a small bowl mix the yogurt and the wasabi paste together. Cover and pace in the refrigerator. This mixture can be kept fresh stored in the refrigerator up to one week.
4. Mix the salmon, cucumber, shallots, avocado, capers, chives, and dill (or cilantro). Salt to taste. Add lemon (or lime) zest and juice, olive oil and combine.
5. Press half of the mixture into a greased ramekin, using the back of a spoon to compress it.
6. Place a dollop of the yogurt – wasabi mixture over the salmon, finish off with a good grinding of pepper on top, and serve.
Serves 2 as a main course or 2 as an appetizer
Note: I bought the salmon for this tartare at a fish market. I always let the person behind the counter know when I'm planning a raw preparation and ask for their suggestions. If you plan to eat raw fish (or beef), buy it from a trusted source. Chilling it in the freezer for 20 minutes makes it easier to dice.