Protein Punch
Who would have thought this tiny little grain carries so much goodness in its core? Everybody seems to have gone quinoa crazy these days. Top chefs just can't get enough of its versatile charm that can be transformed and adapted to any style of kitchen. Vegan foodies swear by the magic protein power it carries and are eager to inject it to any meal they prepare. Even traditional cooks have started using it instead of rice –if you replace rice with quinoa when making "gemista" stuffed tomatoes and zucchini, you will clearly realise the potential of this little grain.
In fact, one of the top searches in google, lately, has been the combination of the words "quinoa" and "recipe". It seems we all want a little bit of quinoa but don't know how to introduce it to our home cooking. This recipe we are sharing with you today is a fresh, juicy and lively way of tasting this, the chameleon of grains, in its full glory. You can always invent a new recipe by playing mix and match with any herbs, nuts and spices you have.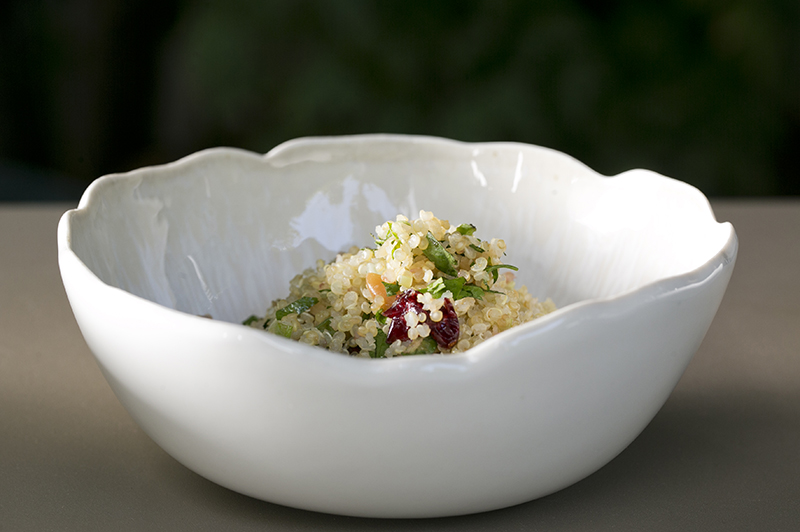 After all, quinoa can be left in the fridge for days,  just waiting to become the base to a quick and imaginative meal. The variations are endless and the basic ingredients give you a good head start to let your imagination guide you to finding the perfect balance of Mediterranean and worldly.
Remember to wash the grains very thoroughly before using them, as they have a natural coating, called saponin, which can make your quinoa taste bitter or soapy!
---
Quinoa Salad with Cranberries and Herbs
Ingredients
For the quinoa:
1 cup quinoa, rinsed in cold water
½ cup dried cranberries
2 spring onions, finely chopped
¼ cup toasted almonds, sliced
¼ cup fresh cilantro, chopped
¼ cup fresh parsley, chopped
For the dressing:
2 tablespoons lemon or lime juice,
freshly squeezed
3 tablespoons virgin olive oil
¼ teaspoon ground coriander
¼ teaspoon ground cumin
salt
pepper, freshly ground, to taste
Method
1. For the quinoa: Cook the quinoa according to the packet's directions. Transfer to a bowl and let cool.
2. Mix quinoa, cranberries, spring onions, almonds, cilantro and parsley in a large bowl.
3. For the dressing: In a separate bowl, whisk together lemon (or lime) juice, olive oil, coriander, cumin, salt and pepper.
4. Pour the dressing over the quinoa, stirring gently to coat. Serve at room temperature. May be kept in the refrigerator for a couple of days.
Serves 4 to 6