Protein Punch
Everybody appreciates quinoa these days…
Not only is it a versatile grain, gluten free, but also it is a chameleon ingredient that packs a protein punch.
You can create variations of this salad by incorporating a wide range of alternate ingredients in order
to give it a Mediterranean flair.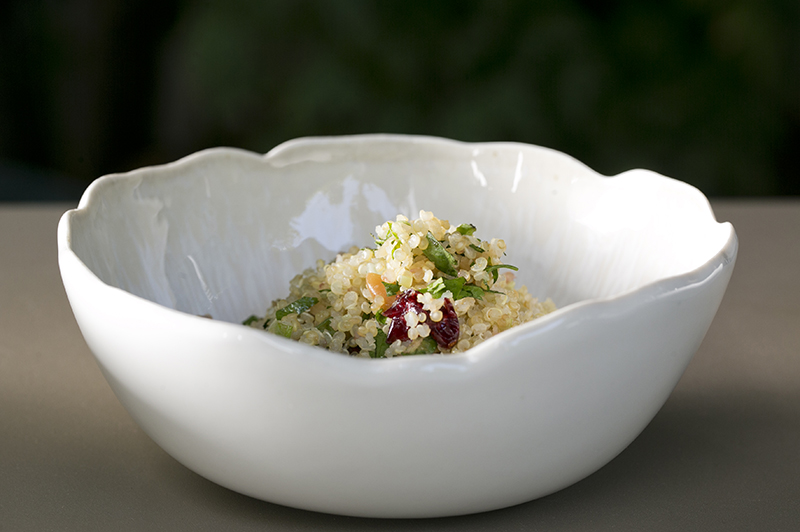 ---
Quinoa Salad with Cranberries and Herbs
Ingredients
For the quinoa:
1 cup quinoa, rinsed in cold water
½ cup dried cranberries
2 spring onions, finely chopped
¼ cup toasted almonds, sliced
¼ cup fresh cilantro, chopped
¼ cup fresh parsley, chopped
For the dressing:
2 tablespoons lemon or lime juice,
freshly squeezed
3 tablespoons virgin olive oil
¼ teaspoon ground coriander
¼ teaspoon ground cumin
sea salt
pepper, freshly ground, to taste
Method
1. For the quinoa: Cook the quinoa according to the packet's directions. Transfer to a bowl and let cool.
2. Mix quinoa, cranberries, spring onions, almonds, cilantro and parsley in a large bowl.
3. For the dressing: In a separate bowl, whisk together lemon (or lime) juice, olive oil, coriander, cumin, salt and pepper.
4. Pour the dressing over the quinoa, stirring gently to coat. Serve at room temperature. May be kept in the refrigerator for a couple of days.
Serves 4 to 6