Go Raw!
This is one of my favourite seasons, not only because of the sea and sun I get to soak in, filling me up with energy for the winter to come, but because it is abundant in ingredients and rich flavours that you can either cook or simply mix, to create unique dishes from scratch!
Hummus has become a sort of staple in kitchens all around the world, sharing its eastern charm.
Note, that it is important not to overcook the chickpeas; we don't want to make a purée out of them but help them maintain a slight bite that will go well with the crunchy pistachio nuts.
Fresh and full of aromas that it requires nothing but some fresh farmers bread and a drizzle of pure, green olive oil. This recipe can last if it is kept in an airtight jar in your refrigerator for up to a week…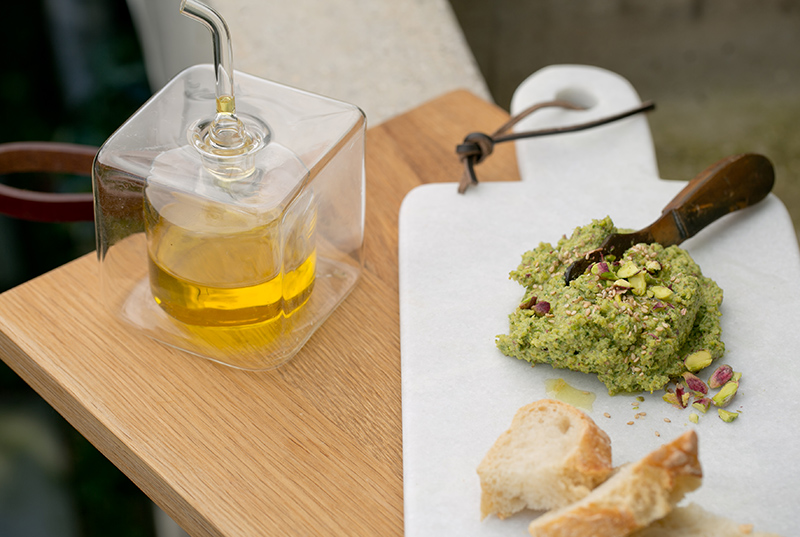 ---
Pistachio and Arugula Hummus
Ingredients
250 g cooked chickpeas, (1 1/2 cups)
½ cup shelled pistachio nuts, plus some extra for garnish
2 cups fresh arugula leaves
15 g basil leaves
¼ cup lemon juice
2 tablespoons lemon zest, grated
¼ cup olive oil , plus extra for garnish
1 garlic clove, peeled and crushed
1 teaspoon sea salt
pinch cayenne pepper
crackers of fresh farmers bread to serve
2 teaspoons sesame seeds
Method
1. Put all the ingredients into a food processor and blend until smooth, scraping down the sides of the blender.
2. Transfer to a serving dish, drizzle with the olive oil and sprinkle with the sesame and some crushed pistachios.
3. Serve with crackers or fresh farmers bread.
Hummus can be made a few days in advance and will keep in an airtight jar for about a week.
Makes approximately 2 cups