Deep in Love
Affogato, (Italian for "drowned"), is a delicious coffee based masterpiece, to be served as the ideal exclamation point to give sweet closure to the perfect meal, or even as an afternoon delight with friends.
The "recipe" for affogato is more or less standard in Italy.
It is actually my son, Stavros', favourite dessert to whip up!
A scoop of vanilla gelato and a shot of hot espresso right on top. Sort of like a macchiato, only with a much richer and cool heart.
This is such a simple treat that it allows you the right to play with it as much as you can, creating interesting, creative variations by adding nuts or coffee liqueur …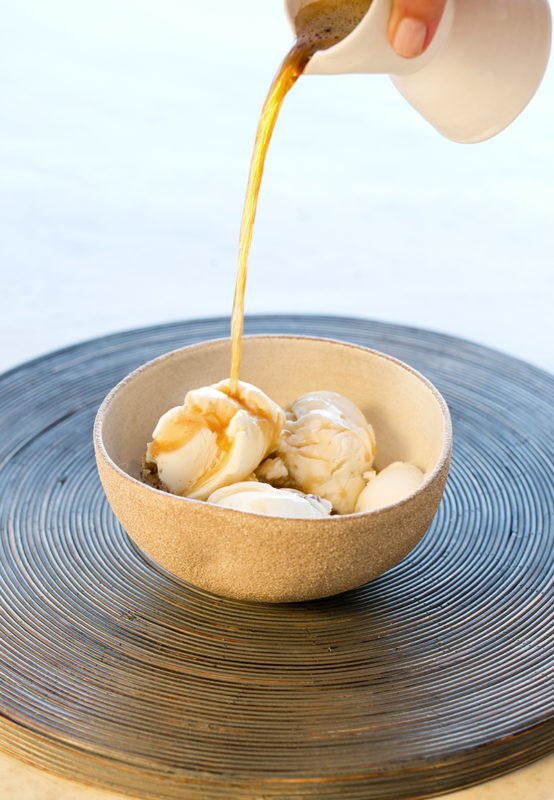 Jamie Oliver suggests using scoops of vanilla ice cream sprinkled with roasted almonds, Amaretti or Italian biscotti, drenched in pecan and roast Arabica coffee. Others like using different flavours of ice cream, like butterscotch or mocha. Some add tiny pieces of chocolate cake under the gelato. 
---
Affogato al Caffe
Ingredients
500 g best quality vanilla ice cream
6 shots of espresso coffee
crushed Amaretti biscuits (optional)
crushed caramelised almonds (optional)
Method
1. Using an espresso machine follow the manufacturer's instructions and make 6 shots of espresso, one at a time.
2. Place one or two scoops of vanilla ice cream into a short and wide glass or an ice cream bowl.
3. Pour the hot espresso over the top of the ice cream.
4. Sprinkle with some crushed Amaretti biscuits or crushed pralined almonds. It's really as simple as this!
Serves 6