There are many variations to the basic recipe…orange juice, walnuts, almonds, lemon…here, the lemon tang is prominent, with just a little bit of fresh ginger in the background, to bring a subtle warmth. Greek yogurt is a favourite ingredient in any cake, as it offers a slightly rich and moist texture… the almonds used are finely chopped, making their presence discreet and subtle to the bite…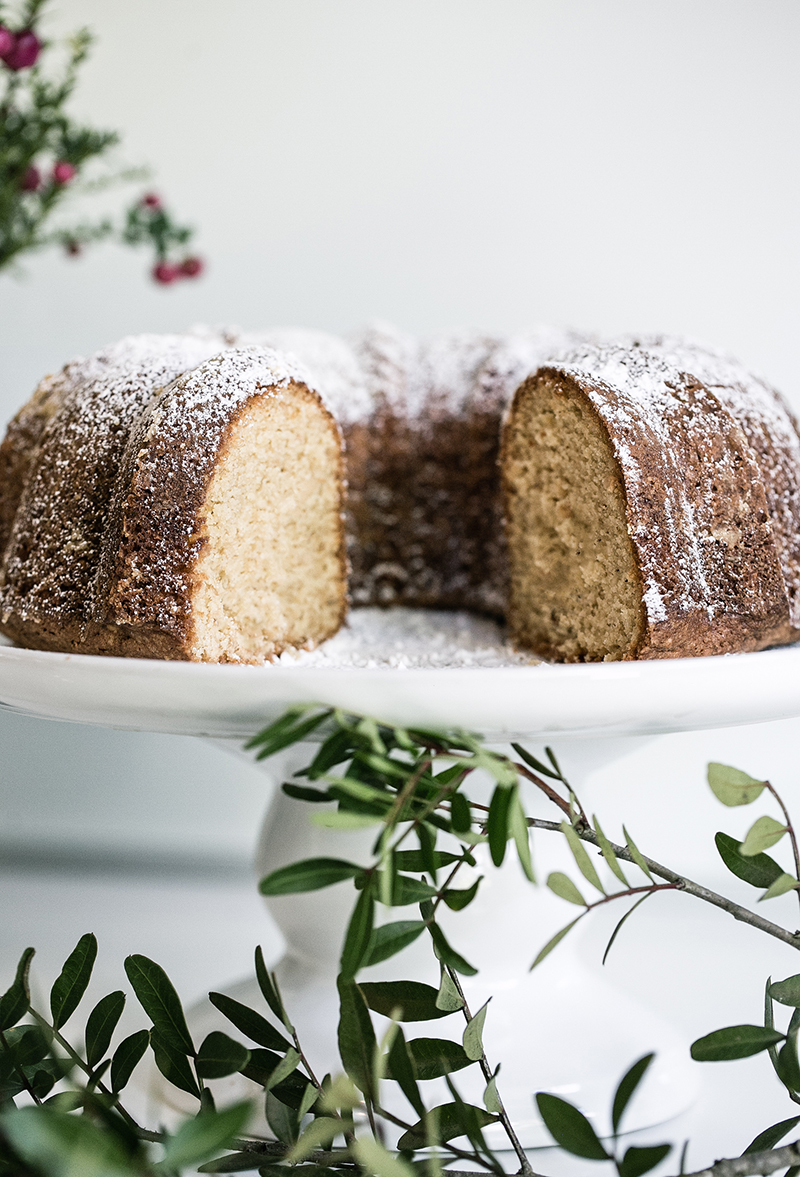 Stored in a glass container, this cake will keep fresh for days…sprinkle some icing sugar on top and add a bit more right before you serve.
---
Lemon & Ginger Cake with Almonds
Ingredients
230 g butter, unsalted
2 cups soft light brown sugar
3 medium sized eggs, at room temperature
2 cups self-rising flour
½ teaspoon salt
1 teaspoons baking soda
1 teaspoon vanilla extract
1 cup yogurt, whole milk and Greek zest of one lime, finely grated
1 tablespoon fresh ginger, finely grated
3  tablespoons lime juice
¼ cup brandy Metaxa
1½ cup white almonds, finely chopped
Method
1. Preheat the oven to 170°C (325°F). Grease a bundt cake pan with softened butter and sprinkle some flour to cover the pan.
2. For the batter: In a large bowl, cream the butter and light brown sugar with a stand mixer fitted with paddle attachment, at a medium-high speed, until pale and fluffy, about 10 minutes. Add the eggs, one by one, beating well in between each addition.
3. Flour mixture: In a separate bowl sift together the seed rising flour, salt, baking soda and ground ginger.
4. Yogurt mixture: In a smaller bowl mix together the yogurt, vanilla, lime zest , grated fresh ginger , lime juice and brandy.
5. At a reduced speed gently add the flour mixture to the batter, alternating with the yogurt mixture. Fold in the chopped almonds and mix for a minute at a low rhythm until almonds blend into the mixture.
6. Pour the batter into the greased and floured bundt pan. Bake in the oven for 1 hour.
7. Remove from the oven and let cool for 20 to 30 minutes before turning over on your serving platter. Place cake right side up. When cool, dust with icing sugar.