Orange Is The New Black
I just love it when food becomes a complete experience, inviting all of your senses to take part in a slowly unveiling game of aroma, colour, texture and flavour. Nature, being the perfect artist, paints our plates with all colours of the rainbow, always according to plan, always according to season.
Have you ever noticed how summer is full of bright reds and bold yellows, while autumn is rich in earthy greens and dark orange hues? In the changing of the seasons, every detail plays its own, important part.
Respecting the ingredients you choose and shopping seasonally is what's best for you, your body, your mentality and nature itself!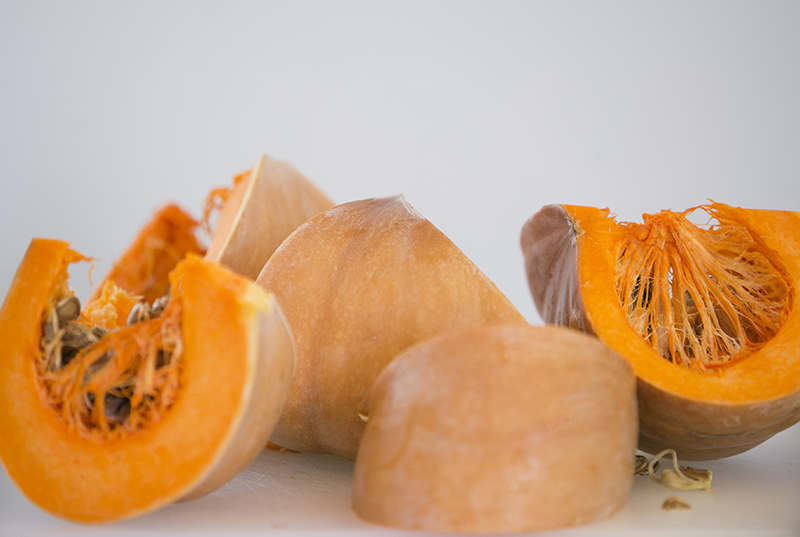 This soup  combines ingredients that are all in season and perfectly compliment each other in flavour as well as colour! This is a performance of subtle, and yet, incredibly flavoursome sophistication.
Truffle oil carries with it the autumn essence that brings to mind beautiful walks in forest paths, covered in fallen, damp leaves. As for the Amaretto crumbs? Well, this was a little secret shared with me by a very dear friend from Italy, a secret I am eager to play with every time I serve this plate.
They look perfect, sprinkled on top of the soup, dancing around the curls of the truffle oil and they hold an element of surprise, taking the enjoyment of this recipe to another level. I love playing this game of aroma and texture with my guests, since no one can guess what these little bittersweet crumbs of mischief are, until I reveal their surprising identity in the end. An end that is just the beginning for the second — and sometimes, third round!
---
My Favourite Pumpkin Soup
Ingredients
3 tablespoons butter, unsalted
2 leeks, thinly sliced
1 garlic clove, crushed
1 onion, chopped
1 celery stalk, chopped
1 medium carrot, chopped
1 apple, peeled and chopped
200 g boiled potatoes
1 tablespoon fresh ginger, minced
1½ kg pumpkin, peeled, seeded and cut in cubes
8 cups vegetable stock
⅛ teaspoon red pepper flakes
½ teaspoon curry powder
¼ teaspoon ground cardamon
salt
pepper, freshly ground
truffle oil (optional)
4 tablespoons crisp Amaretti biscuits (Italian macaroon), finely crushed
Method
1. Heat the olive oil in a big and heavy saucepan over a medium heat. Add the garlic, onion, leeks, celery and carrot stirring occasionally, until tender — but not browned, about 7 to 10 minutes. Meanwhile, peel the boiled potatoes and cut into cubes.
2. Stir in the pumpkin, boiled potatoes, apple and ginger. Season with sea salt, curry and red pepper flakes. Add the vegetable stock and simmer, covered, until vegetables are very tender, about 20 to 30 minutes.
3. Pure soup in batches in a blender, adding more hot water if needed to thin to the desired consistency.
4. Serve the soup drizzled with truffle oil and sprinkle with Amaretti crumbs.
Serves 6 to 8