Orange Is The New Black
This soup  combines ingredients that are all in season and perfectly compliment each other in flavour as well as colour!
Truffle oil, an autumn essence that brings to mind beautiful walks in forest paths, covered in fallen, damp leaves. As for the Amaretto crumbs? Well, this was a little secret shared  by a very dear friend from Italy.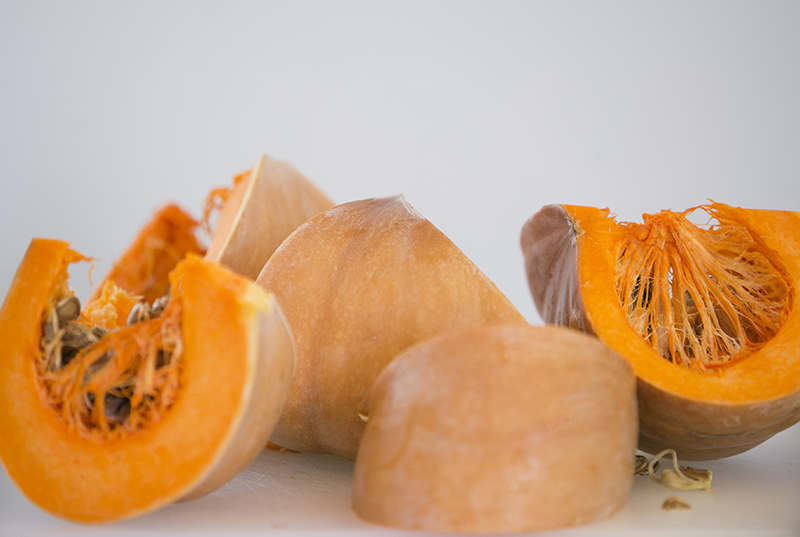 ---
My Favourite Pumpkin Soup
Ingredients
3 tablespoons butter, unsalted
2 leeks, thinly sliced
1 garlic clove, crushed
1 onion, chopped
1 celery stalk, chopped
1 medium carrot, chopped
1 apple, peeled and chopped
200 g boiled potatoes
1 tablespoon fresh ginger, minced
1½ kg pumpkin, peeled, seeded and cut in cubes
8 cups vegetable stock
⅛ teaspoon red pepper flakes
½ teaspoon curry powder
¼ teaspoon ground cardamon
salt
pepper, freshly ground
truffle oil (optional)
4 tablespoons crisp Amaretti biscuits (Italian macaroon), finely crushed
Method
1. Heat the olive oil in a big and heavy saucepan over a medium heat. Add the garlic, onion, leeks, celery and carrot stirring occasionally, until tender — but not browned, about 7 to 10 minutes. Meanwhile, peel the boiled potatoes and cut into cubes.
2. Stir in the pumpkin, boiled potatoes, apple and ginger. Season with sea salt, curry and red pepper flakes. Add the vegetable stock and simmer, covered, until vegetables are very tender, about 20 to 30 minutes.
3. Pure soup in batches in a blender, adding more hot water if needed to thin to the desired consistency.
4. Serve the soup drizzled with truffle oil and sprinkle with Amaretti crumbs.
Serves 6 to 8