A Fine Mess
I always like to stock meringue nests in my pantry, they keep for months if you store them properly, plus they look lovely in tall, round glass jars.
My favourite ones are the all time classics from Varsos in Kifisia…
This takes me back to Sunday morning rituals with my father, filled with wonderful scents of tsoureki, a brioche – like sweet bread and framboise marmalade.
Speaking of Sundays and their lazy afternoons, this is a last minute dessert that you assemble on the spot and the taste is simply sublime…
Taking its cue from Eton Mess, this classic British pudding served at the annual prize-giving celebration of the famous college… with meringues, cream and strawberries, all mixed up. I just love the idea of this fine mess in a more Mediterranean version, all wrapped up in a wintery mode with apples, hazelnuts pure honey and yogurt.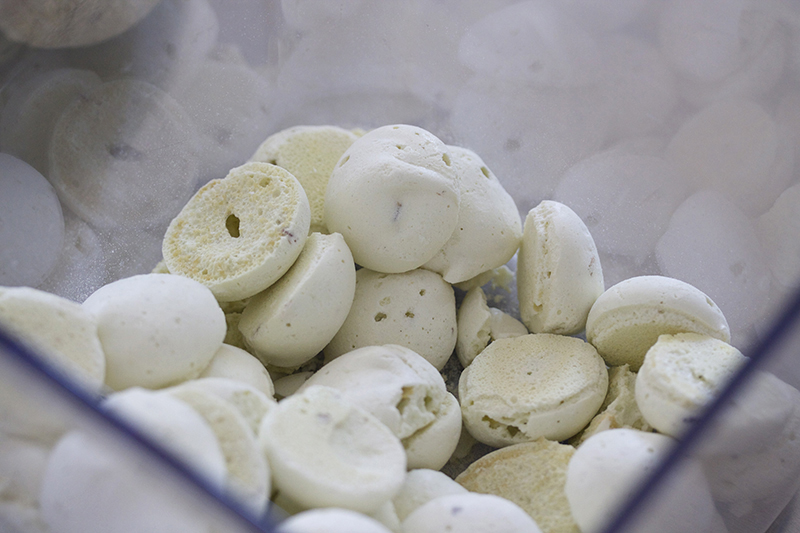 This side of the pond, our cultures have had such an impact on one another; recipes open to this exchange always intrigue me. The honey and yoghurt topped with cinnamon are totally Greek, while the story behind the dessert is quintessentially British and the French meringues and cream just come in to finish off this creative mingle that ends up as a perfect match.
---
Baked Apples with Crushed Meringues, Honey & Yogurt
Ingredients
700 g apples; peeled, cored and halved
35 g light brown sugar
50 ml water
5 tablespoons honey (plus extra honey to use when serving)
30 g hazelnuts
250 ml whipping cream
1 teaspoon vanilla
75 g Greek yogurt
120 g meringue, roughly broken up
ground cinnamon, for sprinkling
Method
1. Preheat the oven to 200℃ (400℉).
2. For the apples: Place the apples in a roasting tray and sprinkle with the brown sugar. Add water and roast for 15 to 20 minutes, until the fruit is tender. When done, pour 3 tablespoons of honey over the apples. Leave to cool.
3. For the hazelnuts: Tip the hazelnuts into a frying pan. Using a medium heat cook for 3 to 4 minutes; until they let off their aroma. Remove from the pan and roughly chop.
4. For the cream: Whip the cream and add the vanilla. Whip until the cream holds its shape. Add the yogurt and stir in by hand 2 tablespoons of honey.
5. To serve: Layer the apples, hazelnuts and crushed meringue in a serving dish. Serve with the cream on the side, drizzle over an additional amount of honey and sprinkle with cinnamon.
Alternatively, you may layer apples, cream, hazelnuts and meringue in individual glasses. Drizzle over  some honey and finish with a layer of cream, more honey, hazelnuts and cinnamon.
English call this Eton Mess. It was invented at the famous English college, Eton, and served at the annual, prize-giving celebration. It may have come about when a Labrador (dog) accidentally sat on a picnic basket. At least, that's the notation you find if you look it up on Wikipedia. If that's anywhere near the truth then the Labrador is definitely in line for a prize, because the desert resulting from this accident, is one of England's most wonderful summer treats. Made from nothing more than crumbled meringue nests, whipped cream and ripe English strawberries, this pudding is assembled rather than cooked and the taste is simply sublime.