Let's face it we all love chocolate!
There's just something about this chocolate crunchy cake… hidden inside that makes it the best kind of surprise…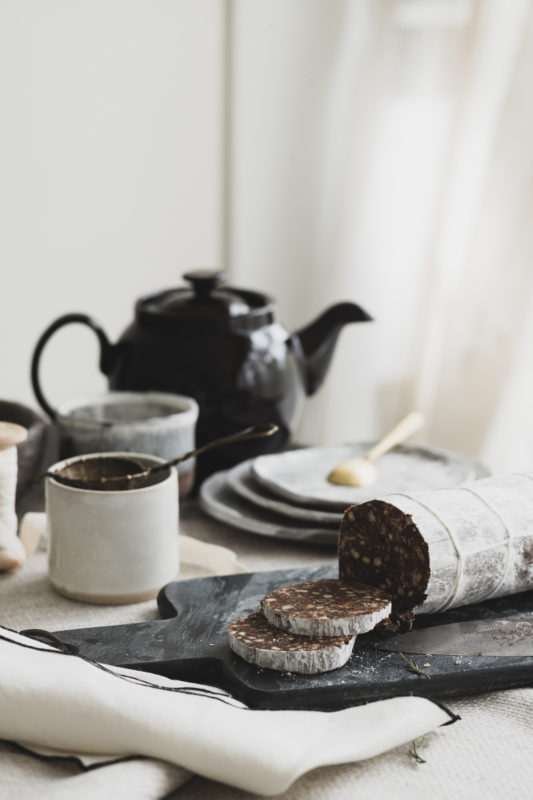 Italian Chocolate Salame with Amaretti
Ingredients:
250 g. good-quality dark chocolate , roughly chopped
250 g. amaretti biscuits , crunchy not soft, crushed into small pieces
100 g. unsalted butter
150 g. caster sugar
3 large eggs
2 tablespoons amaretto liqueur
2 tablespoons unsweetened cocoa powder
75 g. almonds , roughly chopped
75 g. hazelnuts , roughly chopped
50 g. pistachios , roughly chopped
2 tablespoons icing sugar , for sprinkling
String for tying the salame
Method:
1. For the chocolate and biscuits:
In a double boiler melt the chocolate until smooth. 
While the chocolate is melting. Put the amaretti biscuits into a large freezer bag, seal and crush them with a rolling pin into small pieces, not crumbs.
When the chocolate's melted, remove and set aside to cool in room temperature.
2. For the egg mixture:
In a free standing mixer cream butter and sugar until mixture is soft and light.
Gradually add one by one the eggs and then beat in the Amaretto liqueur. (don't worry if the mixture looks curdled)
3. Sift the cocoa powder into the cooled chocolate and with a rubber spatula stir.
Add into the egg mixture and beat.
4. When the chocolate-egg mixture is smooth add the chopped nuts and crushed amaretti biscuits .
Fold the mixture carefully to make sure all nuts and biscuits are covered with chocolate.
Transfer mixture into the refrigerator for 20 to 30 minutes. ( don't leave for too long because the mixture will be difficult to shape)
5. To shape the chocolate salame:
On a clean kitchen surface slice 2 large pieces of clingfilm, overlapping them to make a large piece.
Tip the chocolate mixture out in the middle and shape with your hands the mixture into a log approx. 30cm long.
6. Cover the chocolate log with the clingfilm and firmly roll it, to create a smooth rounded cylinder.
Twist the ends to seal the log.
Refrigerate for 6 to 8 hours or overnight.
7. Once it is set. Cut a large piece of greaseproof paper and lay it on a clean surface. 
Remove the salame from the refrigerator, discard the clingfilm and lay on the paper.
Dust your hands with a little icing sugar and then rub 2 tablespoons of icing sugar (more if needed) over the unwrapped salame to prevent  it from getting sticky.
8. Measure out a piece of string 6 times longer of the salame and tie the end of the salame and make a loop.
With your remaining length of string, start to feed it back along the salame, twisting it around the encircling string each time it crosses a loop, then tie it again when you come to the end. Repeat these lengths as many times as you want, to make the authentic-looking effect.
9. For serving:
Transfer to a serving board and cut some slices, leaving the knife on the board for people to cut further slices as they wish.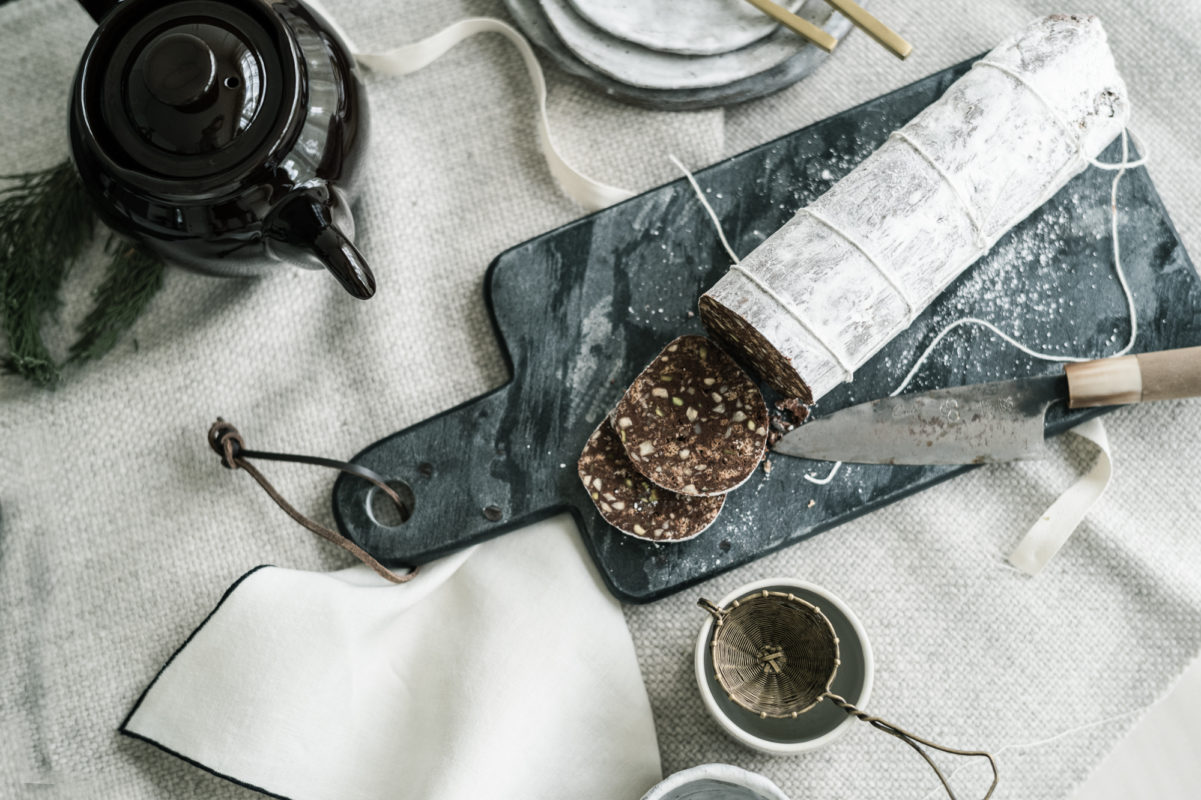 Note:
Can be made ahead, wrapped in clingfilm. Store in refrigerator and eat within 4 days of making. Can also be frozen on day of making, wrapped in a double layer of clingfilm and a layer of foil, for up to 1 month. Thaw overnight in the refrigerator, remove foil and tie with string before serving. Eat within 2 days.