Super Loaf
What's not to love in this delicious recipe that is also a wonderful health booster?
Check the ingredients and tick your super food – to – eat list:
Flax seeds are the richest source of plant-based omega-3 fatty acids. These tiny golden seeds give you clear skin and a leaner body, as they have the power to fight off sugar cravings!
Dates are rich in vitamins, minerals and fibre and they contain oil, iron, copper and magnesium.
As for those delicious nuts? Pecans are an excellent source of vitamin-E and walnuts are full of antioxidants; they promote heart and brain health and balance off diabetes.
This healthy, easy-to-make bread is the base of a hearty breakfast or snack to pack in your bag and enjoy any time of the day. It is just perfect as a sandwich, with  cheese, chutney, and greens…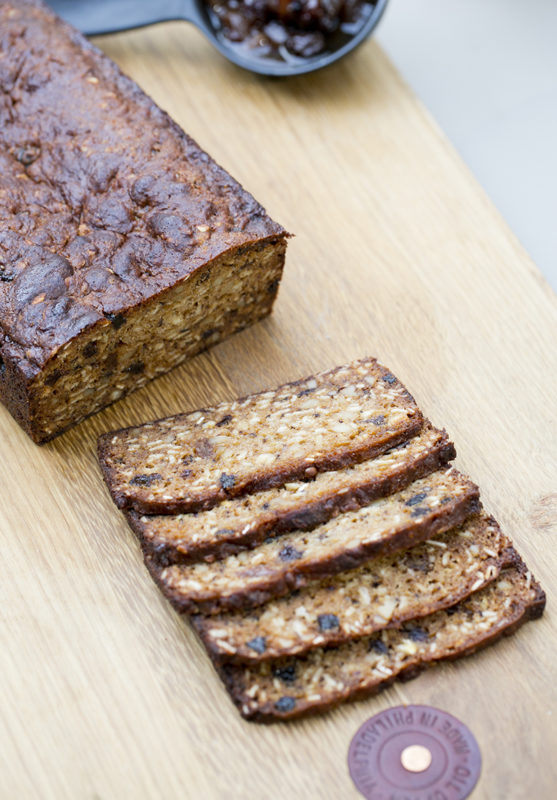 ---
Healthy Date, Nut and Flaxseed Bread Loaf
Ingredients
1 cup dates, pitted and chopped
1 cup boiling water
2 cups sifted all-purpose flour
1 tablespoons baking powder
1 teaspoon baking soda
½ teaspoon salt
½ teaspoon ground cinnamon
¼ teaspoon ground allspice
1 tablespoon flaxseed meal
3 tablespoons water
2 tablespoons granulated sugar
1 tablespoon butter
1 teaspoon vanilla extract
¼ cup maple syrup
¼ cup strong brewed coffee
¼ cup chopped walnuts
¼ cup pecans
Method
1. Preheat the oven to 180°C (350°F).
2. Grease a 9 x 5 x 3 inch loaf pan and set aside.
3. Dates: In a small bowl, combine the dates and the 1 cup of boiling water and let cool.
4. Flour mixture: In a large bowl, mix the flour, baking powder, baking soda, salt, cinnamon and allspice.
5. Flaxseed mixture: In another small bowl, mix the flaxseed meal and the 3 tablespoons of water. Let sit until the flaxseed absorbs all the water. Add the sugar, butter and vanilla. Beat for 1 minute.
6. Pour the flaxseed mixture and dates (with water) into the large bowl that contains the flour mixture. Mix together. Add the pecans, walnuts, coffee or the maple syrup.
Mix well until combined.
7. Pour the mixture into the prepared bread pan and bake for 1 hour or until a toothpick inserted into the centre of the loaf comes out clean. Let the cake cool to room temperature, then remove from the loaf pan and slice when cool.
Total prep & baking 1 hour 30 minutes