Shared Blessing
For the Orthodox Greeks, the Fanouropita is the cake of a saint who reveals things, Saint Fanourios helps people find lost items; he also helps unmarried women… to find love!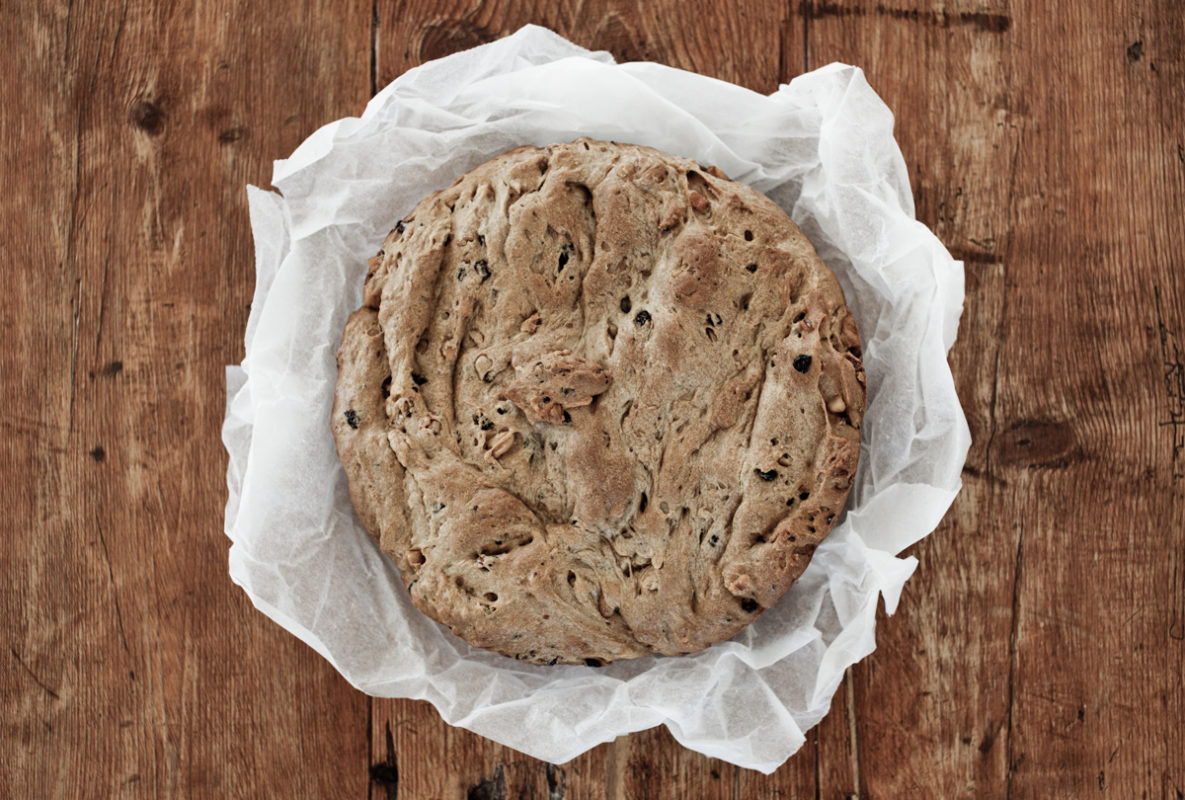 "Faith and a strong wish" are the key ingredients for its success. Other than that, the typical recipe strictly includes 7 or 9 ingredients to symbolize the days of creation, the churches' mysteries and the Angel's orders.
Small changes, and me adding more ingredients have made up this version: Citrus fruit zest, raisins, spices and walnuts are the essence of this delicious Fanouropita !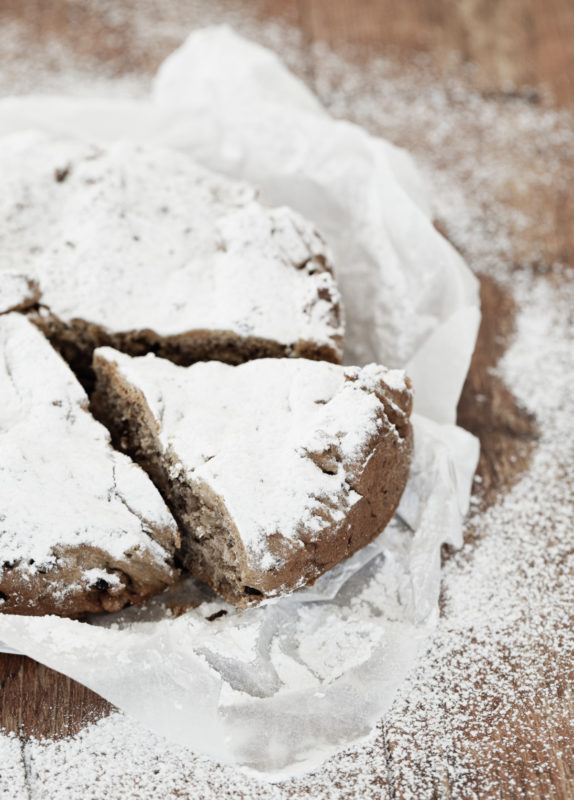 ---
Fanouropita — St Fanourios' Cake
Ingredients
½ cup olive oil
120 g butter, unsalted
1½ cup white sugar
1 cup orange juice, freshly squeezed
1 teaspoon baking soda
1½ teaspoons vanilla
grated zest of 1 orange
grated zest of 1 lemon
600 g self-rising white flour, sifted
1½ teaspoons baking powder
2 teaspoons ground cinnamon
2 teaspoons ground cloves
1 teaspoon ground nutmeg
1 tablespoons anise seeds
½ cup brandy
½ cup dark raisins
½ cup golden raisins
1 cup crushed walnuts
2 to 4 tablespoons sesame seeds, optional
2 tablespoons icing sugar, for topping
Method
1. Preheat the oven to 180°C (350°F). Line a 26 cm, non-stick, round cake pan with a section of parchment paper. Butter the parchment paper and dust with flour.
2. Sifted flour mixture: In a medium bowl sift flour with baking powder, cinnamon and cloves. Add the anise seeds. Set aside.
3. Olive oil mixture: Using a stand mixer fitted with a paddle attachment, combine the olive oil, butter, sugar. Mix well. In a big bowl combine the orange juice with the baking soda; pour in with the olive oil, butter and sugar mixture. Add vanilla, orange and lemon zest and beat for 10 minutes, until fluffy.
4. Reduce the speed to a medium low and add the sifted flour mixture and the brandy, alternating between the two. Beat slightly to blend. Add the raisins, currants and walnuts.
5. Pour the batter into the prepared cake pan and smooth the top. Sprinkle with sesame seeds. Bake for approximately 70 minutes until the cake is browned and puffed. The cake is ready when a skewer inserted into the centre comes out clean (if necessary bake for a little bit longer).
6. Let the cake cool completely on a wire rack. Release the cake, then invert onto a serving plate, and sprinkle with some icing sugar.