Your homemade granola works wonders among the ingredients of this rich and crunchy cookie recipe.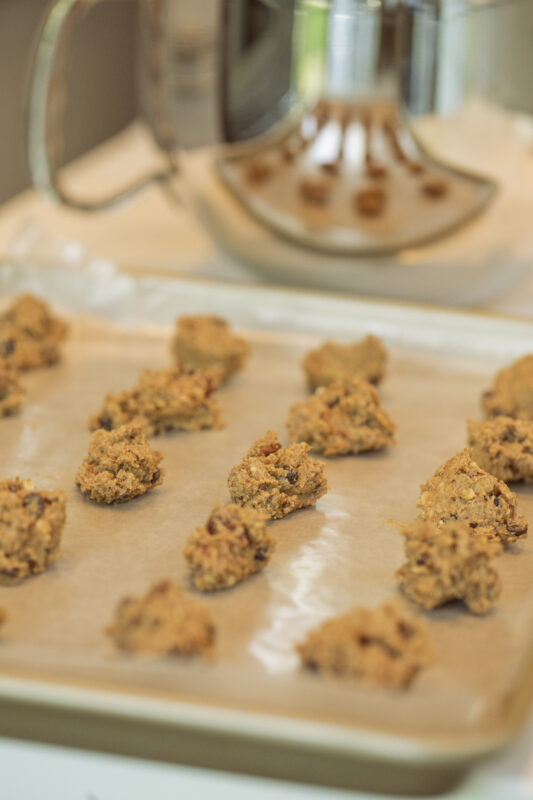 Crunchy Granola Cookies
Ingredients:
1½ cups whole wheat flour
1 teaspoon baking powder
½ teaspoon baking soda
1 teaspoon salt
1 teaspoon ground cinnamon
1 teaspoon ground allspice
220 g butter, unsalted, at room temperature
½ cup white sugar
½ cup light brown sugar
1 egg
1 teaspoon vanilla extract
1 cup homemade granola 
½ cup unsweetened chocolate chips (or a small bar of good dark chocolate, chopped into small chunks)
1 cup pecans or walnuts, chopped
Method:
1. Preheat the oven to 170°C (325°F). Line 2 large baking sheets with parchment paper.
2. Flour mixture: Combine the flour, baking powder, baking soda, salt, cinnamon and allspice in a medium bowl.
3. Batter: In a stand mixer, beat the butter, white sugar and brown sugar at a medium speed until smooth and fluffy. Scrape down the sides of the bowl with a rubber spatula. Add the egg and vanilla and beat on medium until incorporated.
4. For the dough: Add the flour mixture to the batter and mix until smooth. Gradually add granola, chocolate and nuts, and mix to combine.
5. Scoop the dough with a teaspoon and spoon each scoop on the prepared baking sheets, spacing each about 5 cm apart. Freeze for 20 minutes, or refrigerate for at least one hour before baking. (Note: The dough will still spread a lot).
6. Bake one sheet at a time until the cookies are light golden brown, for 12 to 14 minutes. Let cool completely before gently moving cookies to a wire rack. They tend to be fragile, especially along the edges.
Makes 24 to 30 cookies.