Speaking of meatless wonders, middle eastern cuisine if full of beautiful recipes that are pleasing to all the senses, as they create a lovely tapestry of colours, a wondrous sonata of flavours and a grand composition of nutritional elements that give your body a boost of clean energy and your skin a glorious, healthy glow.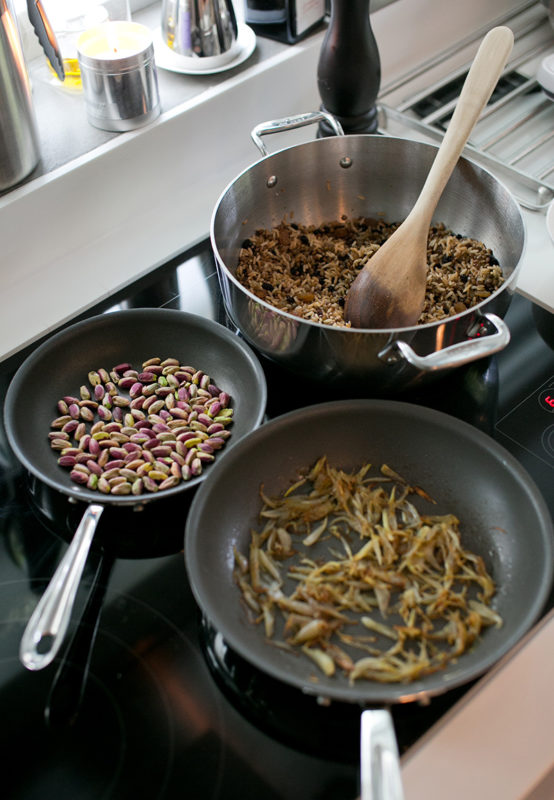 This is a fragrant dish that is bursting with flavour, a fresh and light recipe that is so easy to put together, it doesn't feel like cooking at all! All the different herbs and spices create a deep and refined experience and the elements mixed together offer little bites of surprising alternations between sweet and salty, soft and crunchy. Be generous with your herbs and chopped nuts, and adjust the strength of your peppers and herbs, according to taste.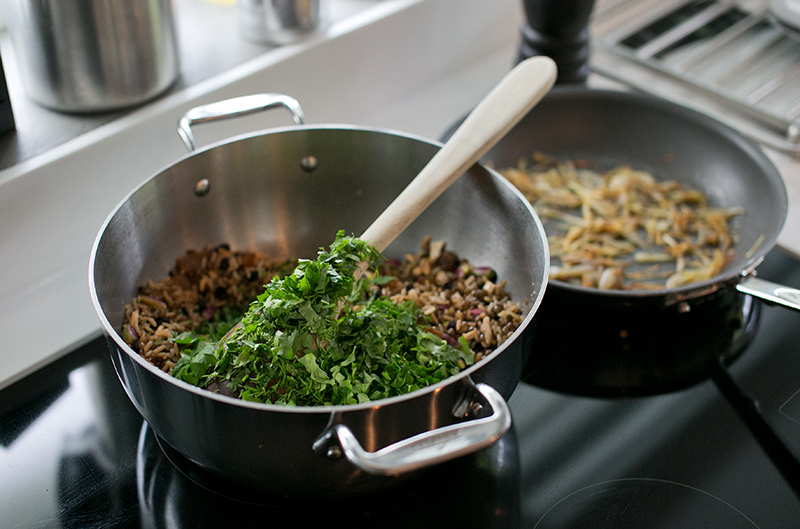 A little secret that helps this dish maintain its freshness it to cook your lentils and rice and set them aside to cool before you mix them together in this multi-layered, culture uniting dish.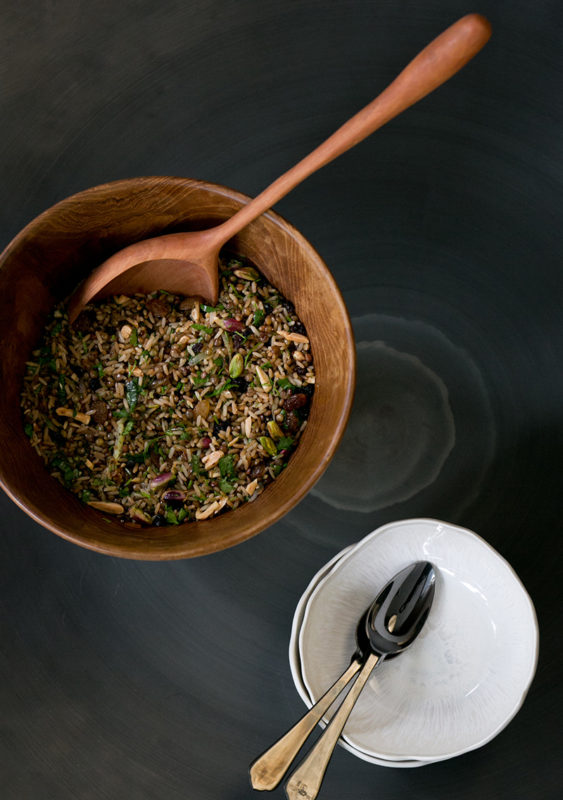 ---
Jewelled Rice with Lentils
Pearls of Wisdom
Ingredients
1 cup brown lentils
6 shallots, thinly sliced
3 tablespoons olive oil
1 cinnamon stick
1 star anise (optional)
¾ teaspoon ground cumin
¾ teaspoon ground coriander
5 whole peppercorns
3 whole  cloves
1 cup white or brown rice blend
1 bay leaf
85 g golden raisins
70 g dried currants
sea salt, to taste
pepper, freshly ground, to taste
45 g sliced almonds, toasted and chopped
pistachios, roasted, whole
bunch of mixed herbs (parsley, cilantro, mint and dill), chopped
Method
1. For the lentils: Place the lentils in a saucepan. Cover with water, approximately 3 cups of water. Over a medium-high heat, bring the lentils to a boil. Lower the heat and maintain at a simmer. Cook, stirring now and then, until the lentils are just tender, around 25 minutes. Set aside.
2. For the onions: In a wide and heavy  pan, heat 1 to 2 tablespoons of olive oil over a medium-high heat. Toss in the onion, and stir around a bit. Lower the heat to medium-low and continue to cook until the onions are deeply coloured and a little crisp around the edges, about 15 minutes. Set aside.
3. For the rice: Meanwhile, in a medium-sized saucepan with a tight-fitting lid, pour in 1 to 2 tablespoons of olive oil. Drop in the cinnamon, star anise, cumin, coriander, peppercorns, and cloves. Heat the oil and spices over a medium heat, stirring occasionally, until the aromatic and sizzling spices begin to darken, about 2 minutes. Stir in the rice, making sure all the grains are covered with the spiced oil. Lightly toast then pour in 2¼ cups of warm water (or follow the packet's instructions concerning the amount of water needed). Cover and cook until all the water is absorbed and the rice is tender. Lift the lid and remove the cinnamon, anise, peppercorns and cloves. Drain any remaining water. Turn off the heat and fluff the rice with a fork.
4. To assemble the rice/lentil mixture: Add the cooked lentils to the rice and toss around to combine. Add the raisins, currants and caramelised onions and fold together. Salt and pepper to taste. Sprinkle half the almonds, and most of the pistachios over the mixture, along with a handful of herbs. Fold again.
5. Place the rice/lentil mixture on a serving platter. Sprinkle the remaining almonds, pistachios and herbs over the top and serve.
Serves 8 as a side or 4 as a main