True Colours
Camargue red rice is a variety of red rice cultivated in the wetlands of the Camargue region of southern France. This red rice has a nutty taste and is the perfect base for a filling dish that whispers summer. Pour the dressing over the rice when it is still warm, so it can absorb all the goodness that comes with the perfect combination of mustard with balsamic vinegar and garlic. After this you have to wait. When the time is right and the  rice has cooled down, your fresh arugula leaves, spring onions and herbs step in to share their tender freshness.
As for the feta cheese? Well, this is the pièce de résistance. Like a leading lady, it steps in right at the last minute, to steal the show!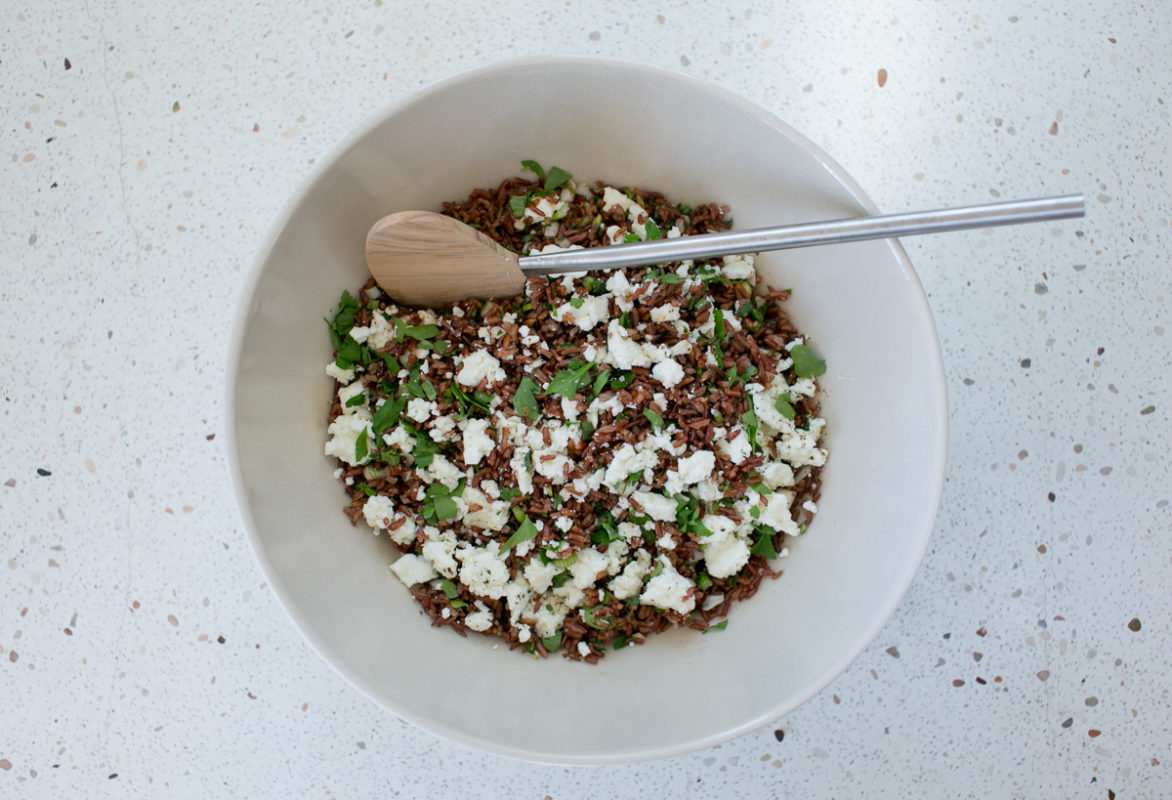 ---
Camargue red Rice Salad with Feta Cheese
Ingredients
1 ½ cup Camargue red rice
200 g Feta cheese, crumbled
50 g fresh arugula leaves
4 spring onions, trimmed and finely chopped, including the green ends
salt and freshly ground black pepper
For the dressing:
1 garlic clove, minced
1 teaspoon grain mustard
2 tablespoon balsamic vinegar
4 tablespoons extra virgin olive oil
salt and freshly ground black pepper
Method
1. In a medium pot cook Camargue rice according to packet instructions.
2. For the dressing: In a medium bowl, combine the crushed garlic with 1/2 teaspoon of salt, to make a paste. Add the grain mustard, balsamic vinegar and some freshly ground pepper and whisk. Slowly add the olive oil to make a thick dressing.
3. Transfer the warm rice into a serving dish, pour the dressing over and mix. Taste to check the seasoning and leave aside to cool. Add the fresh rocket, chopped parsley and the spring onions.
Just before serving, add the crumbled feta cheese.
Serves 6 to 8